Will Puigdemont rule the independent Catalonia of Brussels?
Puigdemont: Can also rule Catalonia from Brussels
In any case, as a "prisoner" he could not continue to exercise the office, said Carles Puigdemont, who faces a long prison sentence if he returned to Spain, on the Catalan broadcaster Catalunya Ràdio. "I couldn't speak to people, write to people or receive visitors in prison," said Puigdemont.
"New technologies" should make it possible
For his intended re-election, the "only possibility" to be considered is to do so "in freedom and security," said Puigdemont. "New technologies" made it possible nowadays to run corporations and research projects. Admittedly, these are not the "normal conditions that we would like", admitted Puigdemont. "Unfortunately" it is "much more difficult" to rule Catalonia from Spain, "where we would be in prison". In its constituent session on Wednesday, the Catalan parliament elected the pro-independence Roger Torrent as parliamentary president. The also newly elected Presidium of Parliament must now clarify whether Puigdemont can be introduced into his office via video link.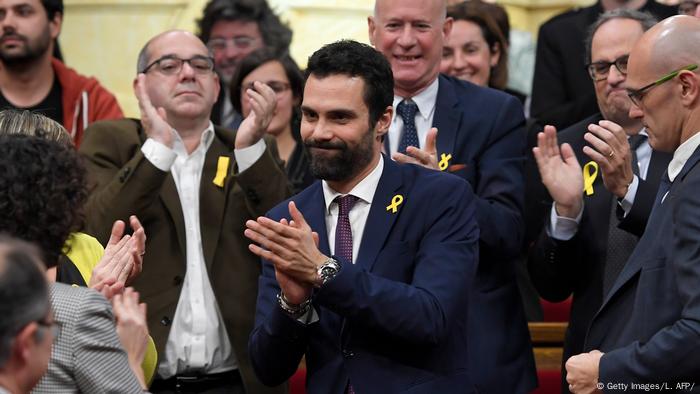 With Roger Torrent another pro-independence proponent heads the Catalan parliament
The main question in the conflict is whether Puigdemont will come back to power. A first vote on this is to take place on January 31st. The Spanish Prime Minister Mariano Rajoy has repeatedly stated that he will under no circumstances tolerate the reintroduction of Puigdemont into his office from Brussels. In the afternoon, government spokesman Inigo Mendez de Vigo reaffirmed this in a Reuters interview. He referred to Article 155 of the Constitution, according to which the Madrid central government can conduct the affairs of the government of the autonomous region if the regional government has separatist intentions. Madrid will then appeal to the Constitutional Court, which will in all likelihood block Puigdemont's inauguration.
With a view to the majority in the newly elected regional parliament in Barcelona, ​​Mendez de Vigo said that if the deadlock persists, there will be new elections. In the regional parliament, the separatists were able to defend their majority in the most recent elections. However, since eight of their MPs are in custody or in exile in Belgium, they cannot play their majority.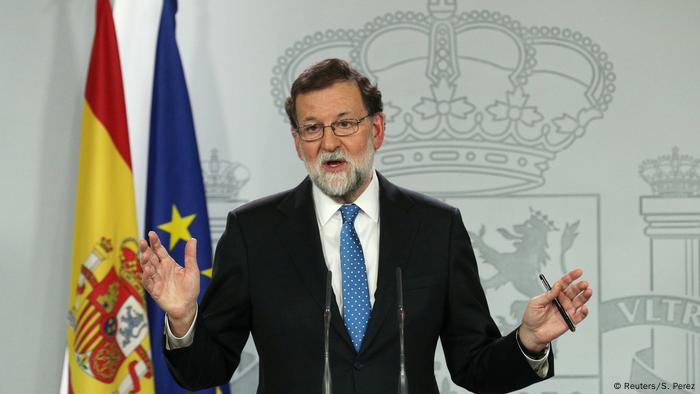 Spain's Prime Minister Mariano Rajoy wants to prevent Puigdemont from taking office again with all his might
"Rebellion, riot and misappropriation of public funds"
The central government placed Catalonia under forced administration at the end of October and removed the regional government led by Puigdemont from office after the parliament in Barcelona declared Catalonia's detachment from Spain after a banned independence referendum. The new elections ordered by Rajoy on December 21 were won again by the supporters of Catalonia's independence.
After their deposition, Puigdemont and four of his ministers had fled into exile in Belgium in order to be arrested. You are wanted in Spain for "rebellion, riot and misappropriation of public funds" with an arrest warrant. Rebellion can be punished with up to 30 years in prison in Spain, rioting with up to 15 years.
sti / kle (afp, rtr)