What is the best landing page software
12 tools for a successful landing page with a high conversation rate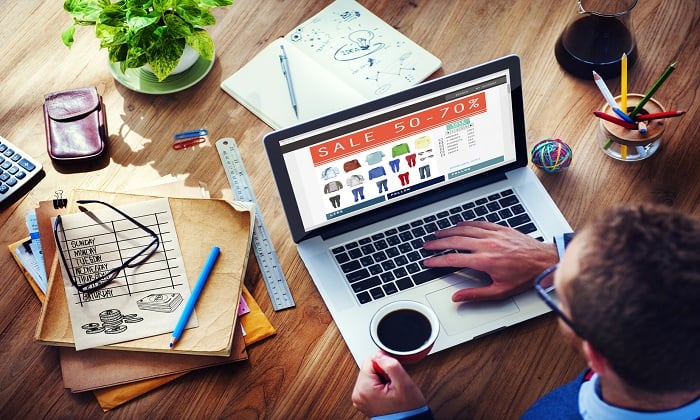 Landing pages are the key element of any online business.
They are one of the best ways to efficiently collect email addresses.
Landing pages can and should be used for most sales pages.
Since they are at the bottom of the "funnel", even a small change in the conversion rate can have a huge impact on your bottom line.
While landing pages have a higher conversion rate than other generic pages, the conversion rate of landing pages can differ significantly from one another.
According to a Hubspot study, the typical landing page converts 5 to 15%, but some highly optimized landing pages convert as much as 30% of users and more.
There are 3 main reasons why vendors and website owners are reluctant to create landing pages.
It takes too long or is too difficult.
You have not been able to achieve extraordinary conversion rates in the past.
They don't know how to systematically improve their landing pages.
All 3 problems can be solved with the right tools.
I've made a list of 12 tools you can use to create a landing page that has a high conversion rate.
Create better, faster landing pages
When it comes to creating a landing page, there are only a few options. You can hire a developer, which is time consuming and expensive, or you can try creating one yourself.
If you don't have enough technical experience, the landing page won't be as good as it could be. If you have experience, you still have to invest a lot of time.
But the thing about landing pages is that they're usually pretty straightforward and repetitive.
There are many tools out there that allow you to use templates and incorporate any message you want. Instead of spending hours creating a landing page, you can do a great one in minutes.
The following tools can help you with this.
1. Unbounce
One of the leading landing page building tools is Unbounce. It got this name to suggest that visitors to its page are not bouncing off, they are being converted.
Unbounce and all of the other features I introduce in this part have similar functionality. So I'll go over these again to clarify.
The reason these functions are so easy to use is that they are "drag and drop" functions.
You can select components (text fields, images, forms, etc.) in the side menu and simply drag them into an area of ​​your landing page.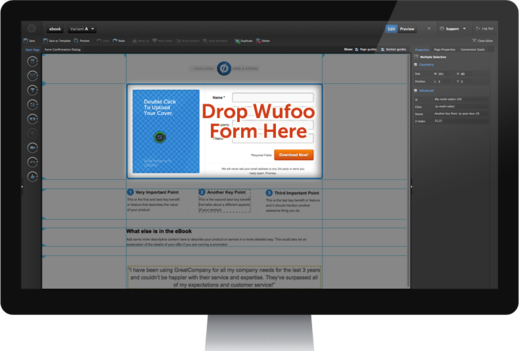 You can of course edit them in any way afterwards.
Another important feature is that most of the pages you create are responsive. As mobile browsing continues to grow in popularity, this becomes more and more important.
It has been shown in the past that the conversion rate suffers if the page is not displayed correctly on a mobile device.
A group study from Aberdeen found that a responsive design leads to a conversion increase of 10.9% per year compared to a non-responsive design that can only see 2.7% growth.
With these landing pages, visitors can see the page, regardless of whether they are using a laptop or mobile phone: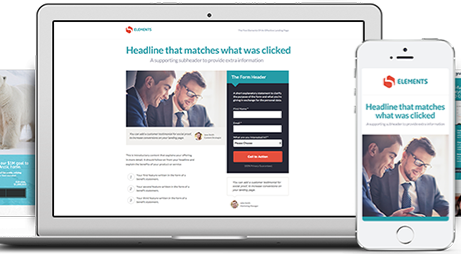 The next function you should know about is probably the most important. You can add any type of form.
Most landing pages serve as lead generation (gathering email addresses and other information). Without an attractive form, your conversion rate suffers. With a tool like Unbounce, you can insert a form (and edit the fields) or you can insert the custom code of a form generating tool: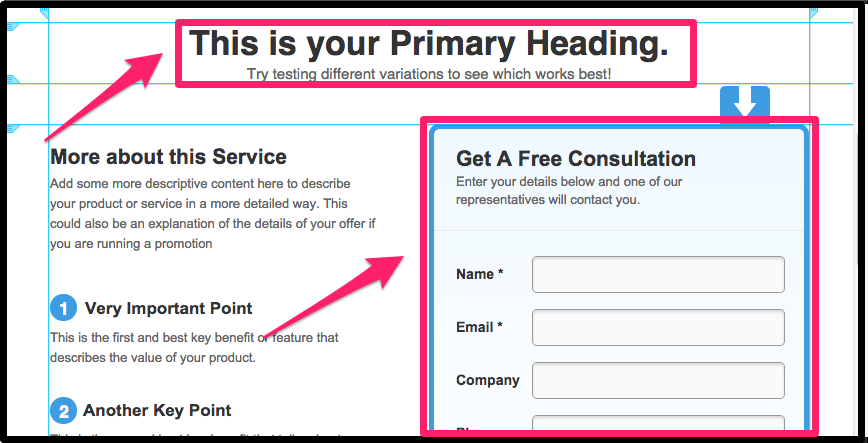 One of the most effective ways to increase your conversion rate is to A / B test your landing page. More details on that later.
Unbounce offers built-in A / B testing.
You can copy a landing page you've created, make a change, and Unbounce will do the rest.
Your analysis shows the conversion rates, other stats, and the trustworthiness of the test so you can decide so you know when to finish the A / B test.

Ultimately, Unbounce stands out because of its large number of templates (which you can also see without registering).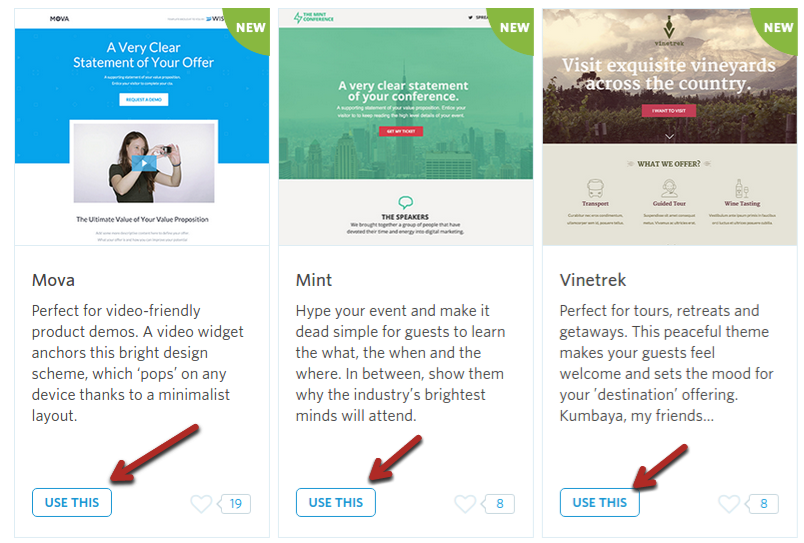 You can start from scratch, but that doesn't make any sense.
Instead, you can use a template that someone else created. As you can see in the picture above, other Unbounce users choose their favorites. This way you will see the best conversion-friendly pages first.
You can also use filters to sort them by purpose or industry: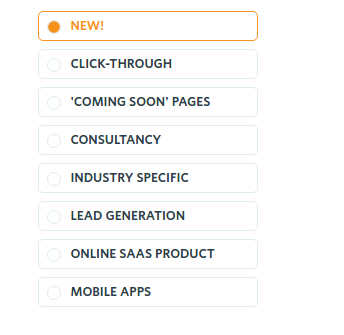 With a subscription of $ 49, Unbounce is one of the most expensive landing page builders out there. However, you can try Unbounce for free for 30 days to make sure it's the right tool for you.
Once you have registered and logged in, go to the "Pages" tab and click "Create new".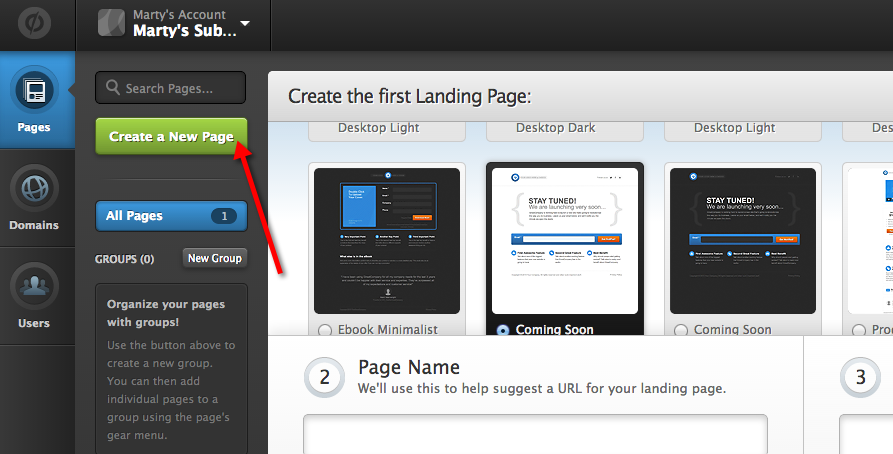 Unbounce offers step-by-step instructions and is very intuitive.
In the screenshot above, you can see the templates on the right.
When you have selected a template, the Main Page Editor opens and you can edit or rearrange all elements as desired.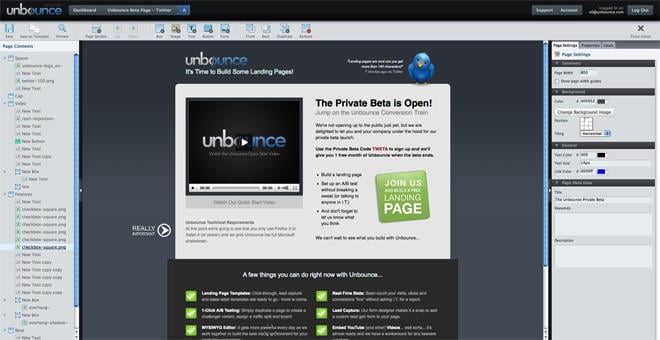 2. Instapage
Another popular landing page builder is Instapage. It offers an unlimited free plan (instead of the free trial period others offer) and also has a much cheaper "base" price of $ 29 per month. For those on a tight budget, it is probably the best solution.
Just like with Unbounce, Instapage landing pages are responsive: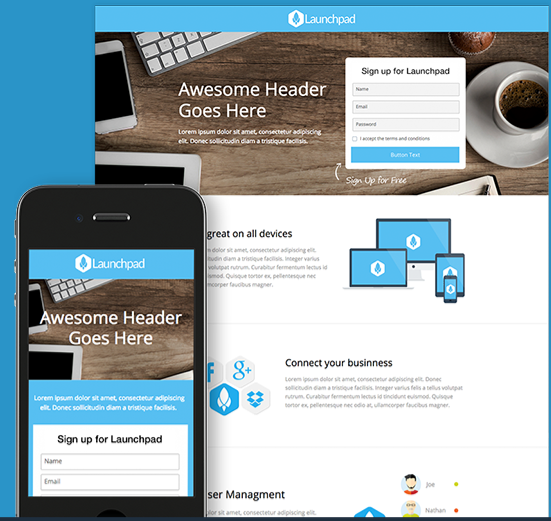 In addition, Instapage offers almost the same features. It allows you to drag and drop elements onto your page or remove them again. And you can edit them with one click.
The site also has an A / B test function so that you can optimize your conversion rate after you have created the first version: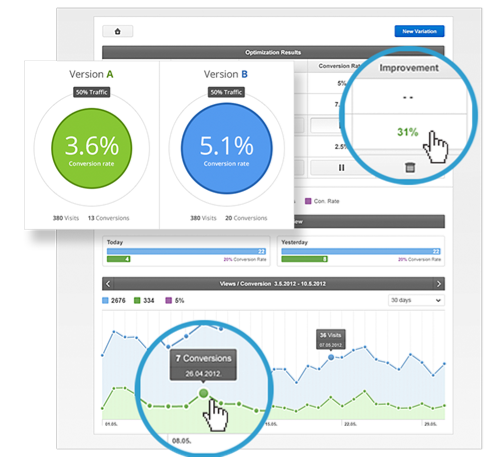 The Instapage page editor is simpler than the Unbounce editor. That can be good or bad, depending on your needs and skills.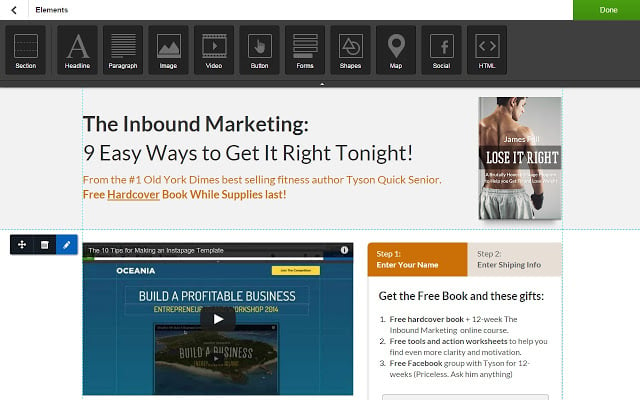 If you are technically inexperienced, he is great. You can still do 99% of all things, and it is probably easier for you.
However, if you like to be in control, you will likely be happier with a tool like Unbounce, which offers more personalization options.
Once you've created a page, you can choose how you want to publish it: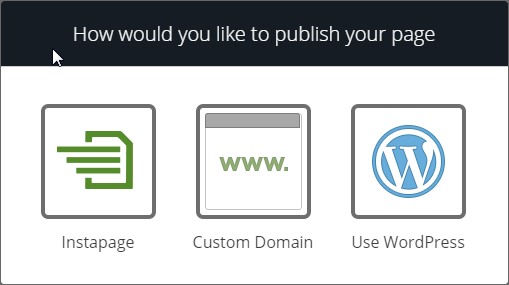 Instapage allows you to publish a page on your own domain (e.g. Instapage.com/your-landing-page). However, I would not recommend that.
If you choose "custom domain", you have the option of connecting your domain directly to your Instapage account in order to publish the landing page directly on your site. You only have to set this once per domain.
Alternatively, you can use the WordPress plugin from Instapage. It allows you to sync the page of your Instapage account with just a few clicks.
3. LeadPages(or click funnels)
Probably the most popular landing page builder among internet marketers is LeadPages. Many top bloggers that you will likely follow use it.
The basic package is comparable to the price of Unbounce, but it is all a landing page generator. With the more expensive packages, you get access to advanced features such as A / B tests and lead boxes (I'll get to them in a second).
The actual landing page builder is very similar to the other options we looked at, but LeadPages offers a couple of unique features that could influence your decision.
The first, essential point is the selection of templates. Not only does LeadPages have a huge selection of templates, you can even sort them by conversion rate.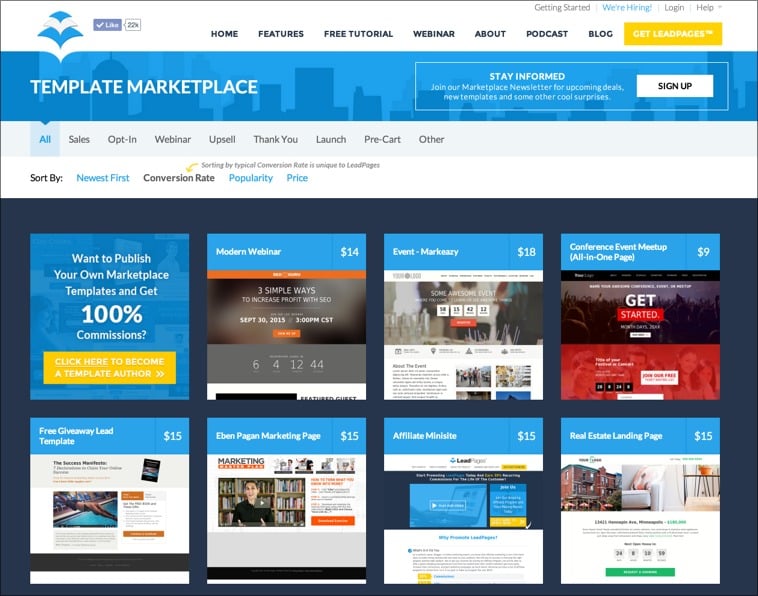 Keep in mind that these are conversion rates based on past testing and do not necessarily reflect the conversion rate you can achieve. It depends on other things like your utility and your niche.
You should also know that most templates not free are. Usually they cost $ 10-15, on top of the cost of the subscription.
In summary: great selection, great landing page template quality, but costs extra.
As with the other landing page editors, you have an analysis area that allows you to split test landing pages and see how well they work: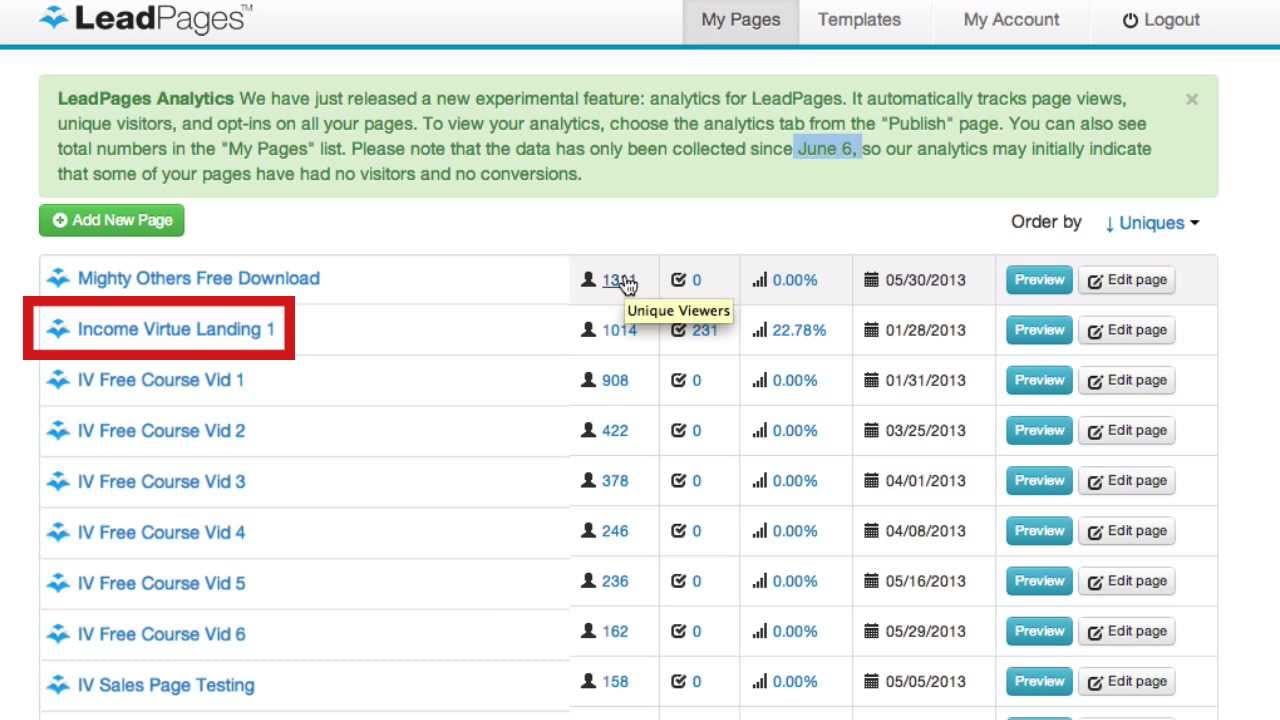 The page editor is robust, yet easy to use. It is comparable to Unbounce in use: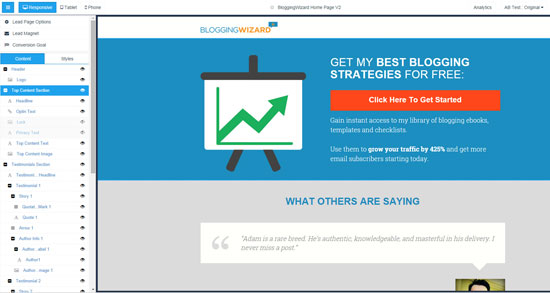 If you've been following several successful blogs for a long time, you're guaranteed to have seen pop-ups like this one: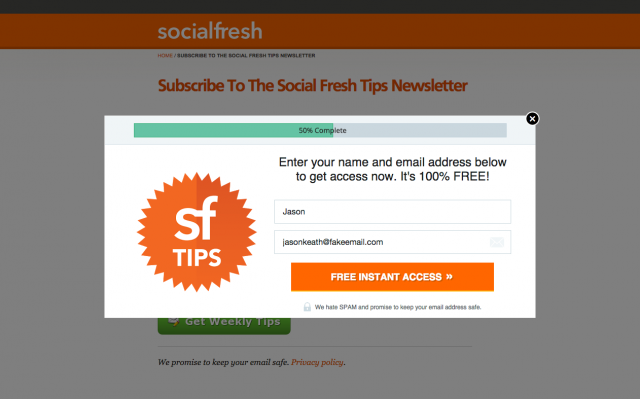 This type of pop-up is called a "leadbox". It is included in the price of all LeadPages accounts, except for the basic package.
You can configure these pop-ups to appear when a visitor clicks a link in your content, so they are likely to be used particularly often for content upgrades. However, they can also be useful for landing pages.
You can configure them to work with any popular email marketing service and automatically send a bonus (e.g. an ebook) to the user.
4. Launch rock
With Launchrock you can also create landing pages, but not as with the options already presented. Instead, Launchrock is mainly used to create "Coming Soon" pages.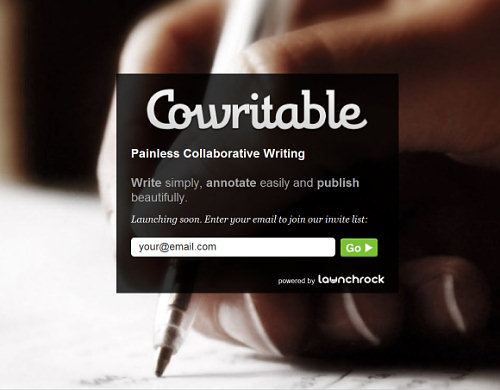 These landing pages are commonly used by startups that are about to start their business, or by companies wanting to find out how interested they are in a new product.
If you're looking for a quick page to build while you're about to launch your business or product, Launchwork is a great tool.
It's very easy to use. Choose a template and edit your message: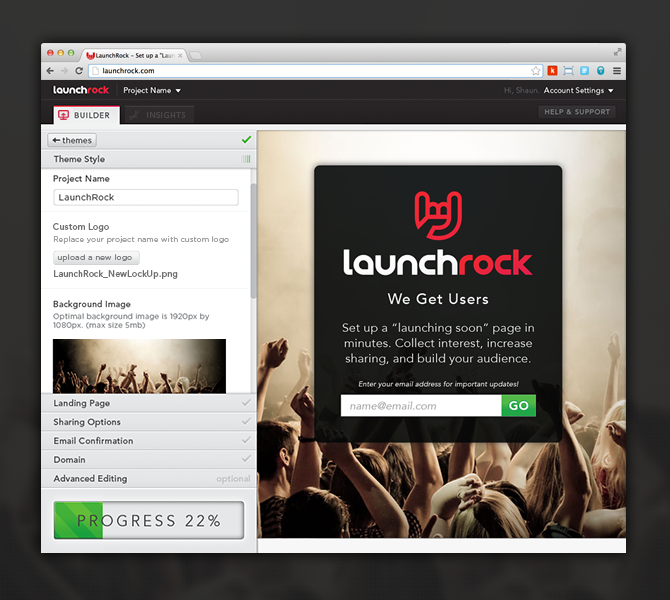 The best thing about this tool is the price.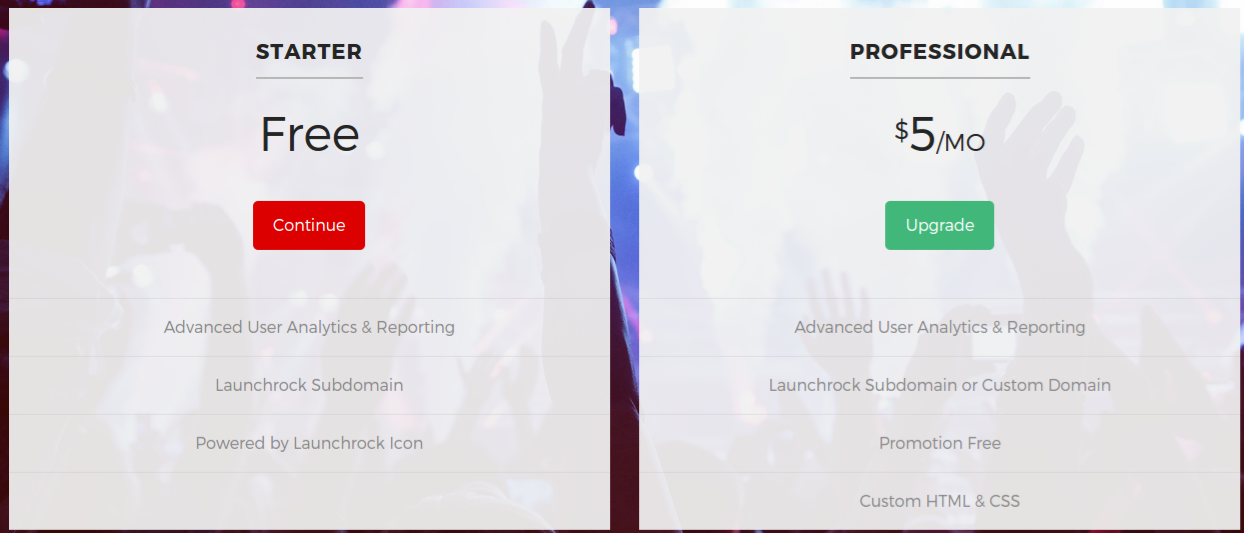 If you only need a few landing pages once, there's no reason not to use this tool and save money in the process.
5. Hello Bar
I'm not entirely unbiased, but thousands of website owners have benefited from collecting email addresses and reporting reports with Hello Bar.
What is Hello Bar? Hello Bar is a small bar along the top of your website.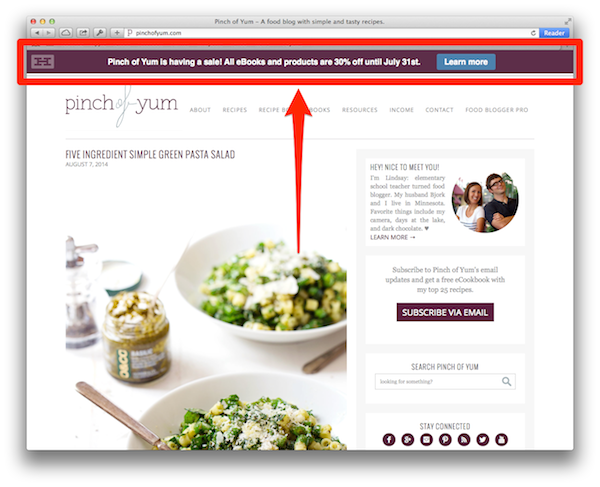 It can be used for a variety of reasons and can help you work with landing pages.
One way to use Hello Bar is to link your landing page anywhere on your page using the bar and an appealing call-to-action. This brings additional traffic to your site with minimal effort.
Alternatively, you can use the bar to offer a product or service discount on a sales landing page without the hassle of changing the page.
You can add Hello Bar to your site for free. Create an account by entering your domain name in the field on the home page:

Once you have created an account, you can choose between different Hello Bars.

In this case, since you want to use it on landing pages, you will likely want to either "display an announcement" or "collect email addresses".
The editor is very simple. Simply enter the properties (color, message, etc.) of the bar in the fields provided.
To continue you can either use the obvious "Next" button to go through the 5 main steps, or simply click on the menu tabs on the left: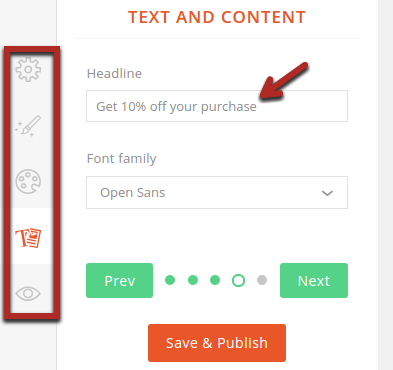 After you have clicked on "Save & Publish", you can choose any standard installation option.
You either send the code to your developer or you install the associated WordPress plugin to make it even easier.

Get real user feedback
Once you know how to create great-looking landing pages, your design won't have much of an impact on your conversion rate.
What continues to have a big impact on your conversion rate is the value and clarity of your offer.
It's tricky having realistic expectations. You may think the added value you offer is clear, but only because you know the offer so well. It may not be clear to someone who happens to visit your page.
The following tools can help you get an unbiased 2. opinion, valuable feedback that will enable you to edit your landing pages to generate higher conversion rates.
6. 5 second test
Visitors don't like to search and think. If your message and offer are not visible in 5 seconds, they are not clear enough.
This tool allows you to get real feedback from randomly selected visitors to see if they quickly understand what your landing page is about.
Let's go through the process from the point of view of a user using this tool.
A registered user receives the following message and when he clicks on "Start the test". Your landing page will be displayed.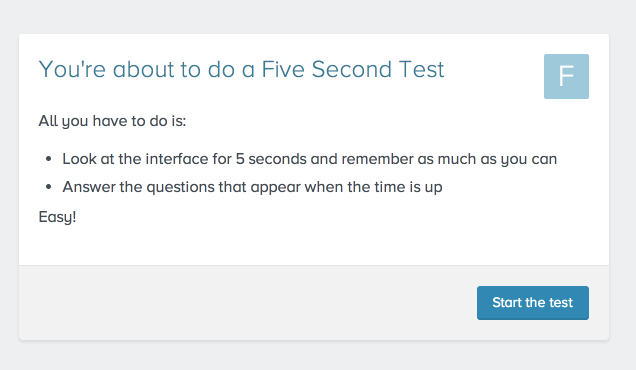 The site could be about anything.
You want the reviewer to ideally belong to your target audience, but that can't be guaranteed - it's a matter of luck.
So while this is a useful tool, it doesn't provide 100% relevant feedback.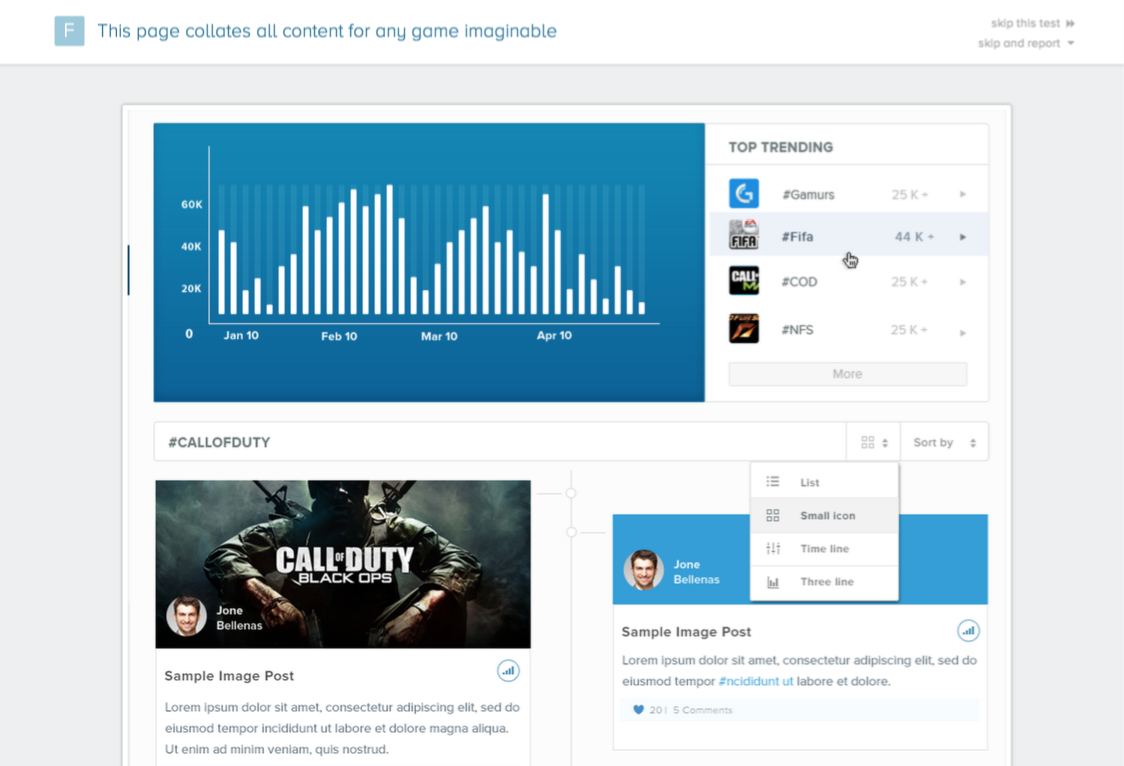 After the user has seen the landing page for 5 seconds, it is closed and a question is asked (selected by the page creator).

Ideally, you should ask what stands out and what is the most useful or best offer on the site.
Once you've got a few dozen answers, you probably have enough to improve your landing page.
However, I caution you not to take the results as your "gospel" because users are often not your target audience. They can still provide valuable feedback that you should take seriously.
It's also a pretty inexpensive tool. You can either answer questions about other landing pages yourself to get credit, or buy tests for $ 1 each.
7. User testing
Sometimes you want to check your landing page more thoroughly. This is usually the case when the page is longer or more complex.
With UserTesting, the users (test persons) record their interactions with your landing page via video.
The landing page is shown, the visitor is asked to navigate on it and, if necessary, sent to your website. While the visitor is doing this, they have to say out loud what they think while interacting with your page and you will then receive a copy of the video.
This can be very useful because you hear things like:
"I do not understand that…"
"I'm trying to do X, but I can't ..."
"I want to see an example from Y, but can't find one ..."
This can be very valuable feedback and you don't need a lot of videos to get useful advice.
On the downside, it's pretty expensive. For the first 10 videos, you pay $ 49 per video. If you expect to make thousands of $ from your landing page, that's not a problem. For site operators with a small budget, however, this could be a reason to decide against it.
A good feature of UserTesting is that you can selectively choose who is testing your site: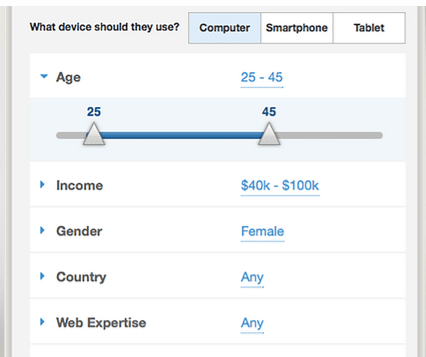 You can determine device, age, income, gender, country and web knowledge.
An alternative is "Peek", another tool independent of the video review option.
"Peek" is free.
You simply enter your page in the Peek text field and click on "Start":

That's all.
Peek hires someone to test your website and give you feedback. There is one important difference, however. You can't decide who is testing your site. That is completely left to chance.
In addition, videos are limited to 5 minutes instead of 15 for UserTesting. That's ok for Landing, Pages. However, if you want to get your entire website tested, more time may be important.
8. Olark
The following tools are useful, but they have one major drawback - the feedback is not from real visitors.
Visitors who really land on your landing page and are interested in your offer are the ones who matter.
Finding out what confuses them or what doesn't interest them can mean the difference between a low-conversion site and a high-conversion site.
The problem is, figuring out what your real visitors are thinking is difficult.In almost all cases, you can't just stand behind someone while they see your landing page and ask them questions.
The best solution is to install a small, inconspicuous chat widget. It can be located at the bottom of your page and only opens when clicked on by a visitor: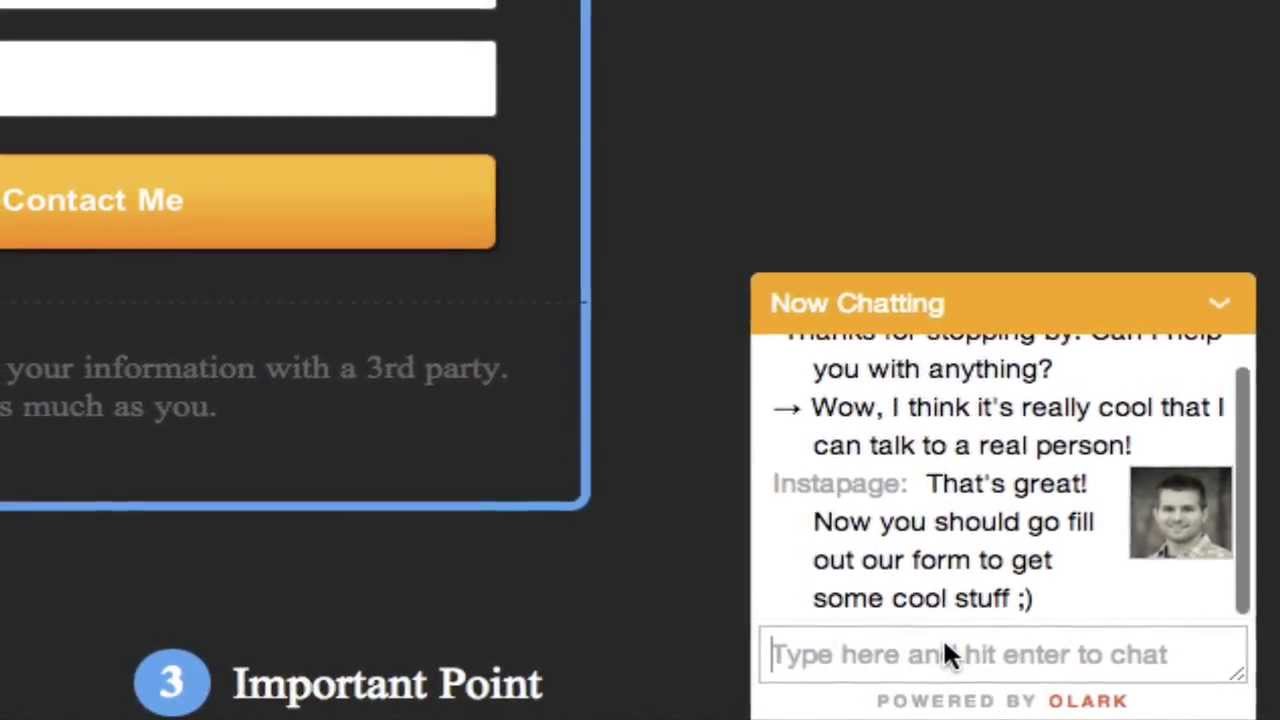 Once installed, the visitor can ask questions about your site:
"What about Y?"
"Is there a guarantee on the offer?"
"Do you offer installment payments?"
etc…
If you are asked the same question over and over again, there is a high probability that other visitors (who do not use the chat function) will have the same doubts.
You can then answer this question more clearly on your landing page. This is an effective way of clearing up any confusion about what is on offer for customers. You want them to have as few concerns as possible.
I included Olark because it is one of the most popular live chat software out there. However, there are similar tools that are great too.
To set up Olark, you need to configure the display and message of the chat tab that appears at the bottom of your page.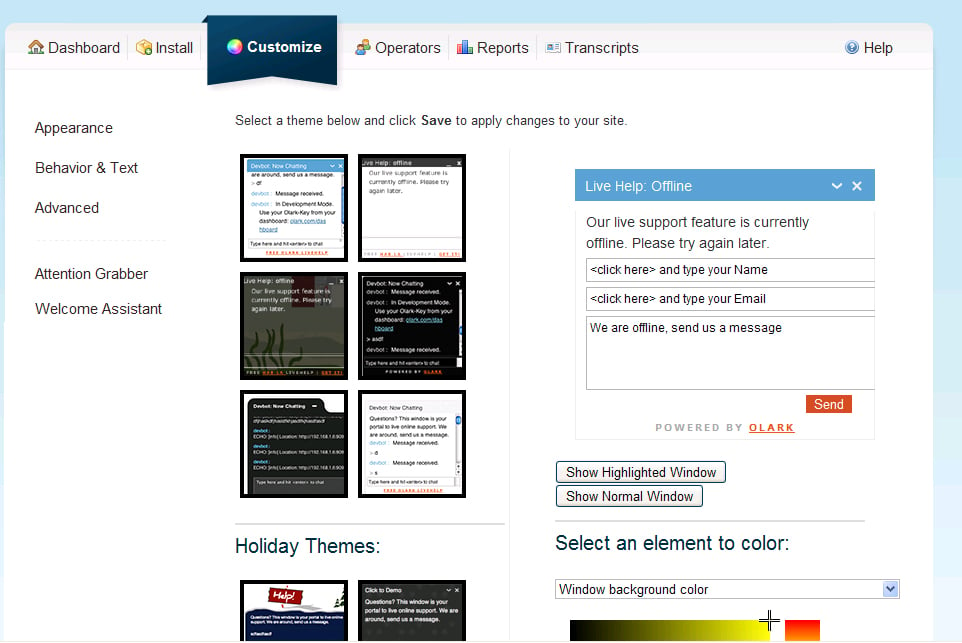 Choose a template or color scheme that is different from the rest of the page so you can be sure that the majority of visitors will see it.
If you have adjusted the widget, you will receive an installation code: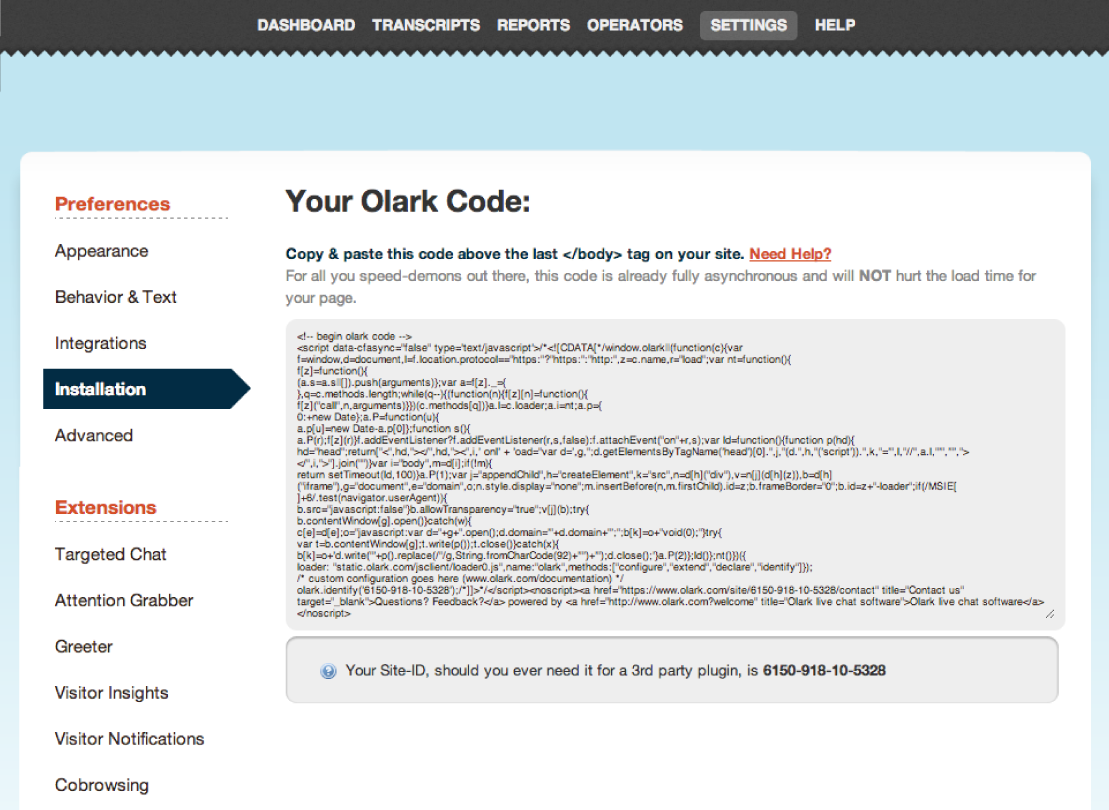 You can either "copy and paste" the code into your page or use the "Custom Code" option available in all of the landing page tools we've looked at.
One final note regarding this tool is this. You don't have to be the only person speaking to customers live. Depending on which package you choose, you can let a team do the support or you can do everything yourself.
You can also easily switch the function on and off so that it only appears when you have time to chat.
Make sure you are getting the most out of your traffic
Getting traffic to your site is not always easy or cheap. It is therefore important that you get the most out of the site.
For example, if you spend $ 0.50 per visitor on PPC advertising, a double conversion rate saves you $ 250 per 1000 visitors (or you only pay for 500 visitors to get the same result). That adds up quickly over time.
To maximize your conversion rate, you need specially designed tools to help you do this.
9. Crazy Egg
As the co-founder of Crazy Egg, I'm certainly not the most unbiased when I say I believe Crazy Egg is one of the best heat map tools out there. I let the positive reviews of thousands of webmasters speak for themselves.
Crazy Egg is designed to show you exactly how your visitors use your website (or a specific landing page).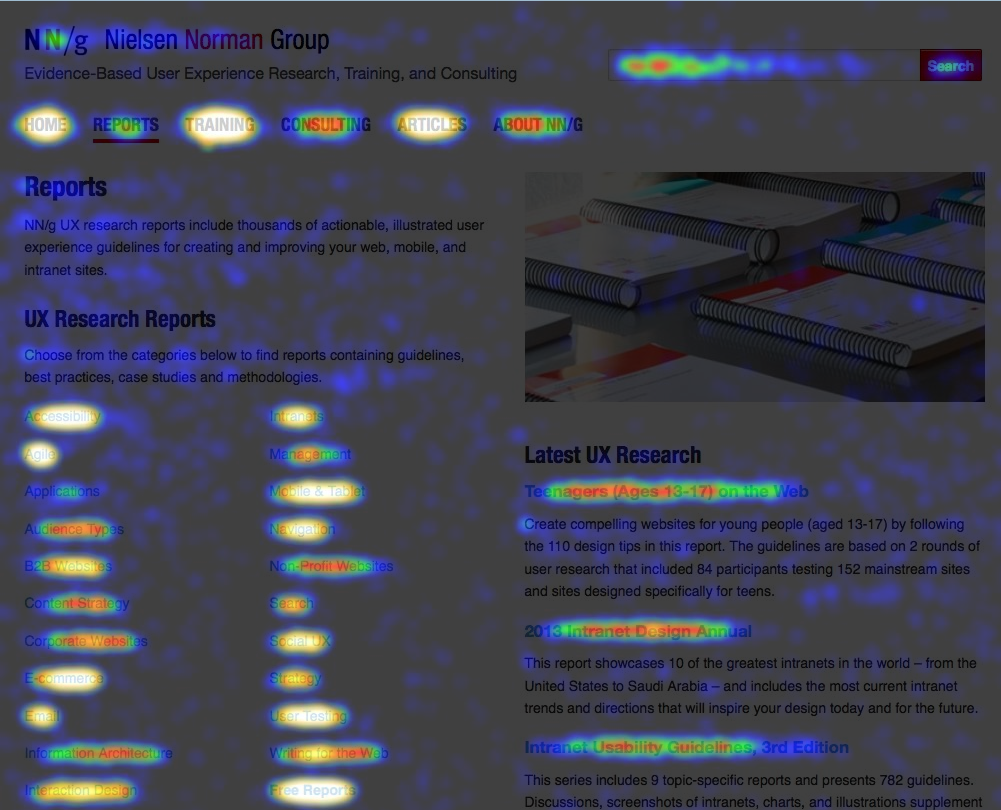 While there are some pretty complex things going on in the background, it's actually quite easy to install Crazy Egg on your website.
Once you have an account, you have access to your personal code, which you can insert into your website using "drag and drop" and the recordings then start automatically: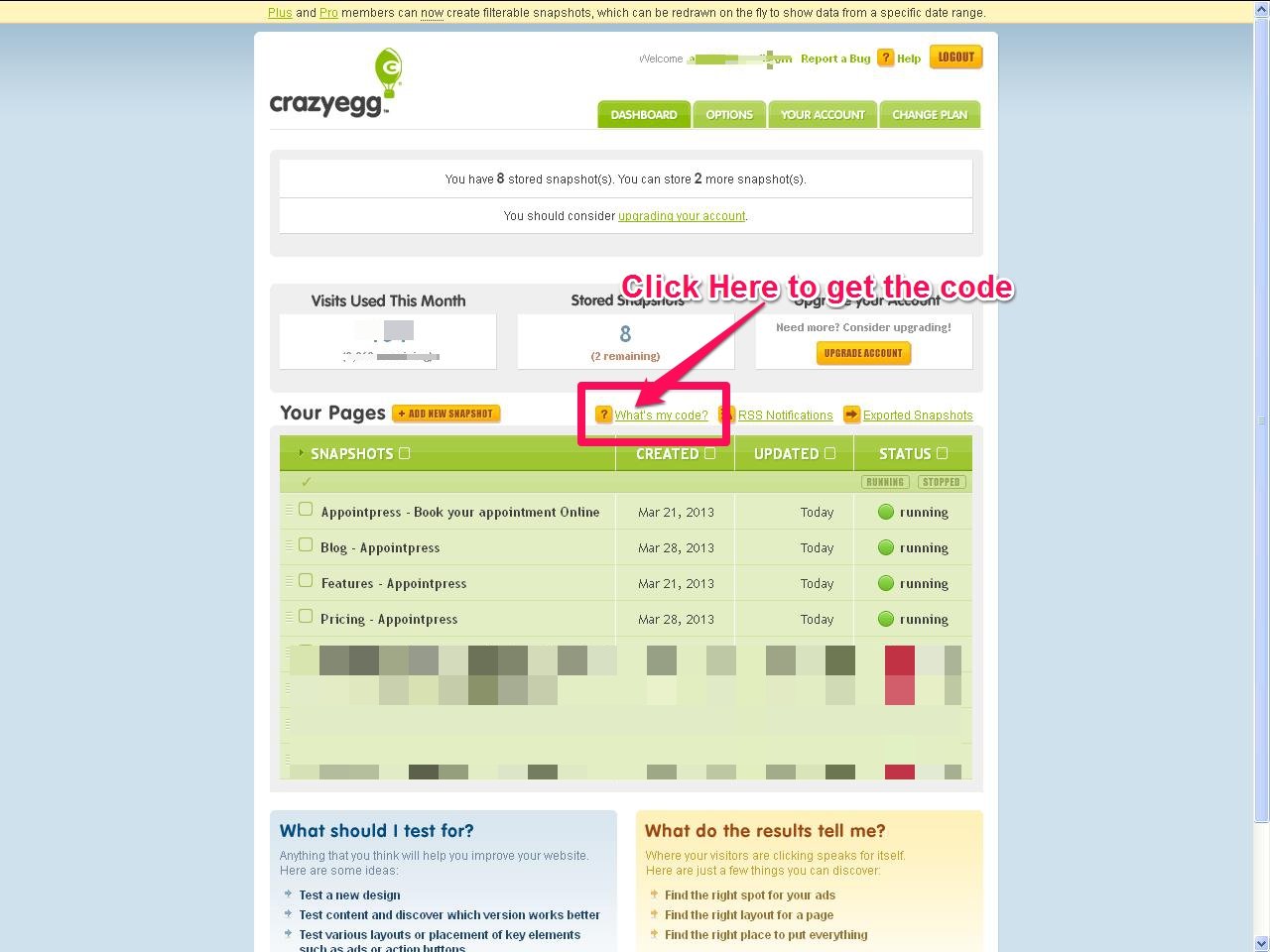 Under your code is a control page so that you can make sure that everything is working as it should: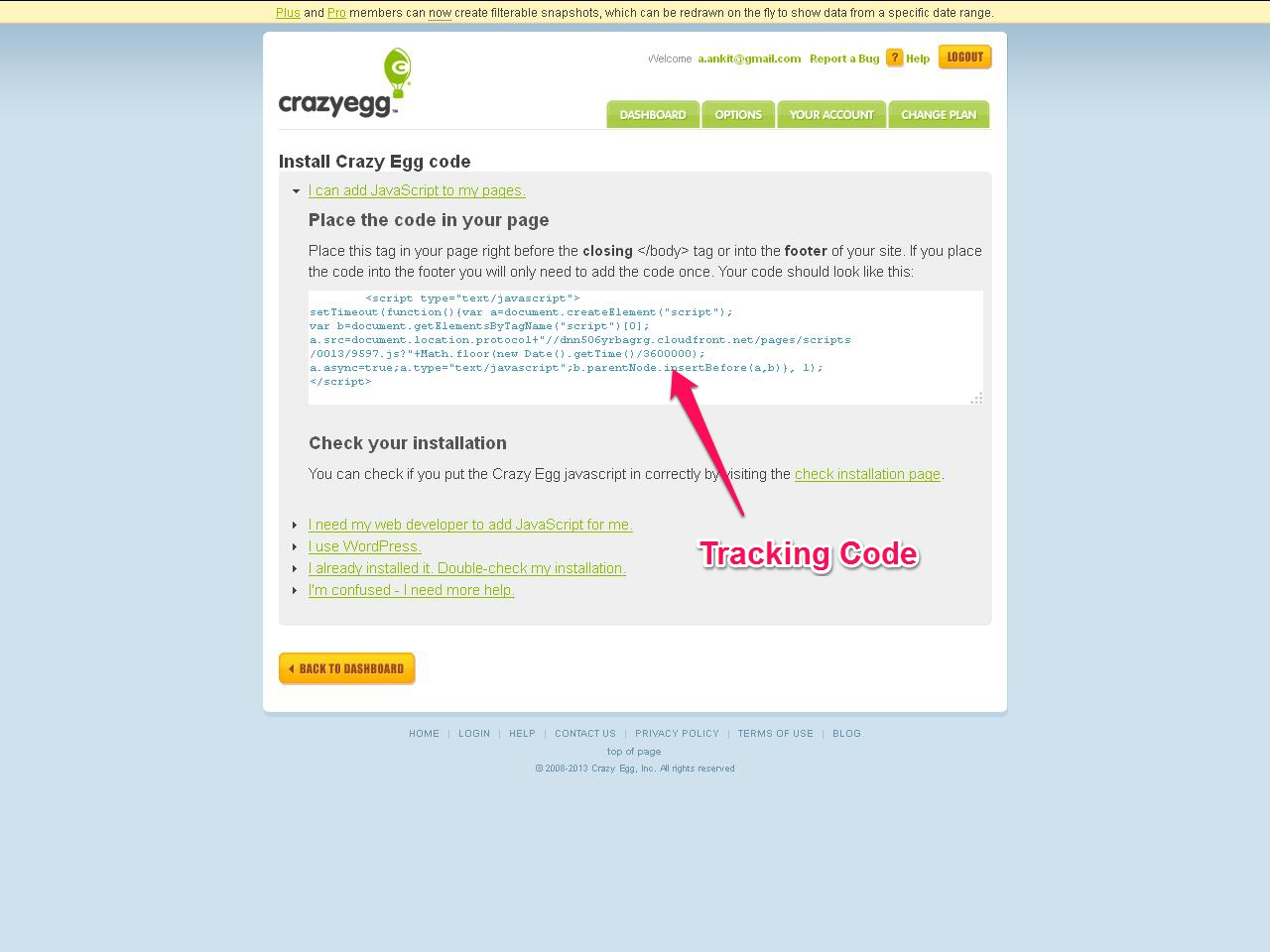 If you want to make it even easier for yourself, use the Crazy Egg WordPress plug-in to install the tracking script.
Once you've gathered some data, it's easy to see how useful a heat map can be. Find out which areas visitors pay most of their attention and then place the most important elements there.
If visitors skip a part of your landing page, remove it, or move it lower because it is of no interest.
10. Optimizely
If you want to run A / B tests on your website (including landing pages), there are a few great tools. Optimizely is one of them.
If you're using a landing page builder, you probably don't need Optimizely. Once you've built a page from scratch, it's a good tool for A / B testing.
There is a paid plan, but you can start with the free plan to get used to the software.
When you log in, you will be asked to enter your landing page URL.
Your page will then be loaded as a new variant (you can find the original in the "Original" tab). You can also add multiple variants if you want to test multiple changes.
To make a change, click on an element of the page (left click). A menu opens with editing options.

The option you probably want to choose is "Edit element". Then change the text
When you're done, click the green button in the top right corner to save and start the test:

You will receive a code that you can insert into the heading of your landing page using "copy and paste". This ensures that your traffic is split between two or more versions that you have created and that it measures their success.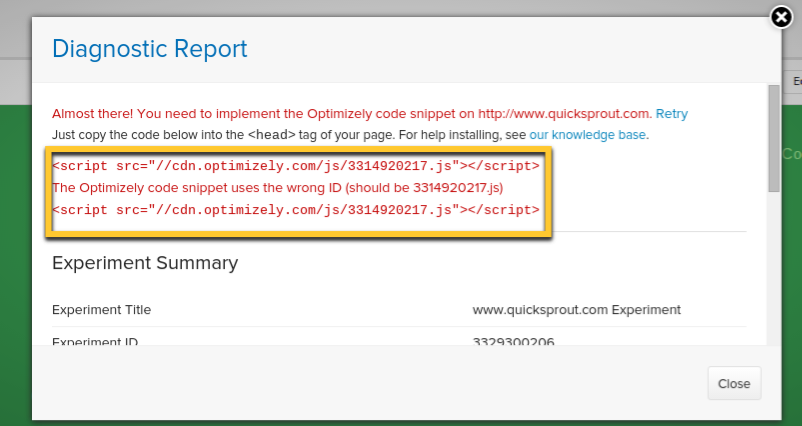 If you have traffic, you can log into your Optimizely account and see how well each of the different versions works. You will be automatically informed when your test has produced a noteworthy result.
11. Visual Website Optimizer
Optimizely's biggest competitor is Visual Website Optimizer (VWO).
Once you've created an account, it works a lot like Optimizely.
You will be asked for an optimization goal, in this case it is "Optimize a landing page":
Enter your URL in the text field and click "Next".
As before, click on the element that you want to change. A menu opens with various options (edit, move, etc.):

Did you make your change (remember to change only one thing in the A / B test), click the "Next" button in the lower right corner.

Once you have done that, you still have to tell the tool what you want to measure:
On a landing page this is usually the number of submitted forms: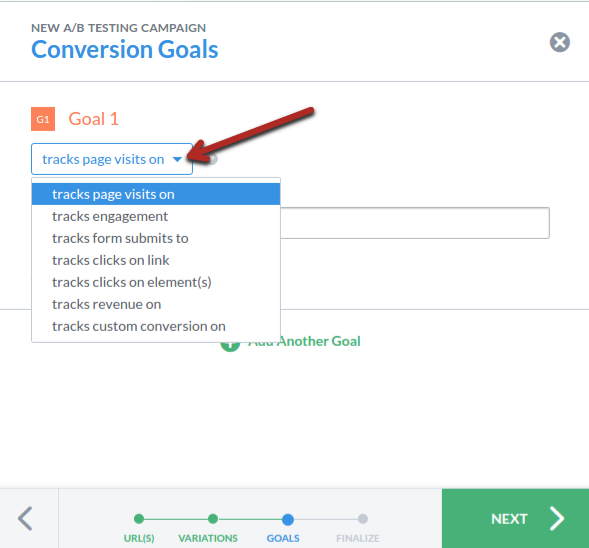 Once you have done that, you will receive your finished code: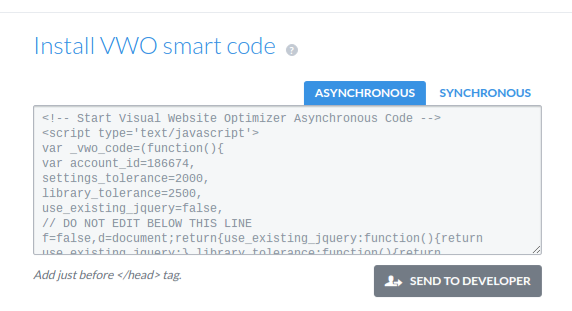 Paste this into the header of your landing page using "copy and paste".
If you come back after you have had some traffic on your site, you can see a detailed comparison, which of the versions performs better in the comparison test:
12. Browser shots
There are 2 important factors that determine how your landing page will appear to the visitor. The first is the device the visitor is using, which is why it is so important to use responsive pages.
The second factor is the visitor's browser. You need to carefully review how your landing page appears in different browsers, not just the one you use yourself.
If your landing page appears to another popular browser as a pure jumble, you automatically lose some of your potential customers.
Browsershot won't solve the problem, but it can help you figure out which browsers are showing your landing page strangely.
Enter your landing page URL in the text box and select the browsers you want to check.

This tool has over 100 browsers, but you really don't have to check all of them if you don't want to. Select at least a few of the latest versions of the most popular browsers (Internet Explorer, Chrome, Firefox, Safari) and operating systems, and then click "Submit".

The tool is free. But there can be a queue. On the next page, the estimated time to complete is shown.
If you reload the page later, you will see a lot of tiles (as pictured above) - one for each browser. If one of them looks strange, click on the tile to see a larger screenshot.
If there is a problem, you can either, if you have developer skills, try to solve the problem, or you can ask customer service for the landing page tool you are using.
Conclusion
Landing pages are essential to running a successful online business. They are arguably the best way to get information from prospects and move them down your "sales funnel".
If you don't create landing pages because it's too difficult or time-consuming, you won't get all of the benefits that they bring.
If you don't create landing pages with high conversion rates, you're missing out on a lot.
If you suspect you have any of these problems, I've given you 12 tools (all of which are really cheap or even free) that most of the top online marketers use on a regular basis.
Once you've learned how to use them, you'll be creating landing pages with high conversion rates in no time. This leaves you with more time to spend driving quality traffic to your landing pages instead of working forever on them.
Don't believe, however, that there really are only 12 good landing page optimization tools. If you know some that you've used and loved before, leave a comment so that other readers can benefit as well.