Will Quebec ever hold another independence referendum?
Teenage fan club on pandemic, politics and music: "A polarization like in the USA"
Teenage fan club have a new album. Norman Blake and Raymond McGinley on lockdowns, Scottish independence and obscene streaming numbers.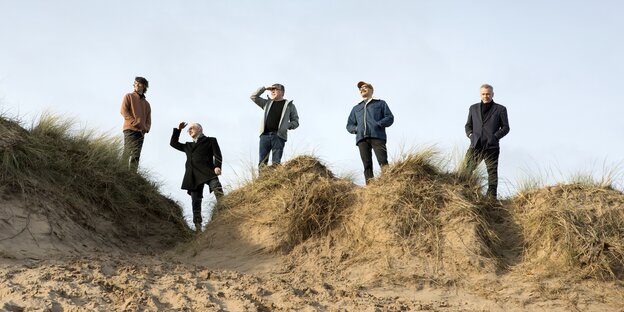 "This virus is a global equalizer": the band members of the Teenage Fanclub Photo: Donald Milne
The bizarre intimacy of Zoom interviews: On a sunny spring day in Glasgow, Norman Blake sits jittery in his car on the banks of the River Clyde. He has just driven his daughter to court, where she will testify as a witness. A few kilometers away, his band colleague Raymond McGinley takes a seat in front of an oak cupboard in his house. A few days ago "Endless Arcade" was released, the new album by their band Teenage Fanclub. It starts with seven minutes of sublime melancholy: The song "Home" tells of waking up in the morning knowing that life is changinghas changed fundamentally. Norman Blake sings about longing for other people.
taz: Why does your new album start with a "home office" ballad?
Norman Blake: After more than a year in lockdown and a drastically reduced range of motion for most people, you could read it that way, yes. I composed the song beforehand, in a difficult phase in my life when I couldn't be at home and I missed a lot about it.
In the chorus of "Endless Arcade" you recommend "Don't be afraid of this life", another song is called "Everything Falls Apart". Can music even alleviate people's isolation?
Raymond McGinley: In music, as in any art, we look for something that is relevant to us. Regardless of whether a piece was created shortly before the pandemic or 200 years ago in a field in Sussex, you only establish a connection with it if you can relate something to yourself. We make it pretty easy for people by singing about basic things: emotions, relationships, our existence. If this pandemic has anything good at all, it may be that it unites people in one situation and with an important insight: We are not superheroes, nature still has all of us under control.
Blake: I find the interpretative dominance of Covid-19 completely understandable. Was there ever a moment in human history that affected every individual on the planet in the same way? This virus is a global equalizer.
In the video for "Home" you play as a band on chairs in a circle on the stage of an empty theater. Proactive handling of the impossibility of giving concerts?
McGinley: We didn't shoot a pandemic video, we just wanted to make noise together. And we copied the band scene from the British film "O Lucky Man" from 1973 with the setting. Alan Price plays in a contextless room and comments on the film. But of course, there is this global, all-dominating context called Covid.
Time has passed since Kurt Cobain called the Teenage Fan Club "the best band in the world". But the Glasgow quintet, founded in 1989, still has a lot of fans. They love the straightforwardness with which the Scots ignore grunge, Britpop and other hypes, and appreciate the stoic way with which the "fannies" cultivate their preference for power pop and Americana. And vary. "Endless Arcade" (Pema / Rough Trade), the new album that has just been released, can cope with an exit (with Gerard Love, one of the songwriters quit), deals with a failed marriage and immerses the lyrics in sublime, never too rockist melancholy.
Lindsay Anderson's feature film "O Lucky Man" is a clever criticism of capitalism disguised in a British musical comedy. Are you struggling with the system? Release postponed, tour canceled: how much of the lack of revenue did additional streaming make up for?
McGinley: I just have to think about it very briefly: zero. Payments have probably risen from the usual "almost nothing" to a little more than "almost nothing". To be able to listen to all music ever released for ten pounds a month, the offer is obscene. For listeners: Inside it might be a bargain - for bands it means that you're happy when albums bring in their costs.
Blake: I remember being played the music of Captain Beefheart to me in the 1980s. After that I tried hard to get hold of his albums. Complicated and expensive. Today I get everything with one click. Except for his masterpiece "Trout Mask Replica".
You used to extol the sublime beauty of Alex Chilton's music at every opportunity.
Blake: I can still hear it every day. But Beefheart's "Clear Spot" has that funky, soulful guitar sound that I love dearly.
Who was more important to you to get to know: Kurt Cobain or Alex Chilton?
Blake: We toured with Nirvana in 1992, at a time when they were getting very famous very quickly, and Kurt became a friend in the process. We were on stage with Chilton and learned a lot from him. It had a different quality for me.
Glasgow has a long pop tradition: bands like Orange Juice and the Postcard Records label have many fans in Germany. What does this legacy mean to you?
Blake: Postcard was important because the label stands for Scotland. The Simple Minds also come from here, but they left for London immediately to pursue a career. Postcard conveyed the feeling that we are more than just a province.
McGinley: Postcard's aesthetic self-confidence gave the scene courage: It was okay to like punk and funk at the same time. As a young band, it showed us that we don't need to ask anyone's permission.
As a Scottish band, could you still release an album called "Songs from Northern Britain" today?
McGinley: When it appeared in 1997, Great Britain looked even more united. England and Scotland were also closer to each other. We thought the title was funny because we knew people would be projecting something into it. Almost 25 years later we stopped laughing. People keep finding new dividing lines: geographical, political and cultural.
Blake: This split is depressing because it runs across the country in Scotland as well. Historically, major changes such as independence movements were supported by a large majority, for example in the former Soviet states. In the dispute over Scottish independence, just like in Brexit, there is no clear majority, only two camps of about the same size, hardly willing to compromise. A similar polarization as in the USA. And then the big issues - health, education, climate change - get out of sight.
McGinley: Politics has gone from a pragmatic discussion to a romantic positional war. Of course, I didn't vote for Brexit because I thought it was basically silly. But many people on both sides identify completely with these opposing positions, which are often romantic ideas and have little to do with everyday social problems.
Is there still hope that a second independence referendum will not be prepared after the regional elections so as not to further deepen the social rift?
McGinley: Sometimes I think we should hold this referendum first thing tomorrow so we can finally talk about something else. But I am sure that nothing would change. The losing half would push for another referendum, and then another. I personally do not really care about the constitutional question. I don't think a United Kingdom would be morally superior to an independent Scotland or an independent England. Of course, the other way round either. Maybe England should vote on whether they want to become independent.
Blake: This has been the case with Quebec in Canada for years. They call it Neverendum now.
The documentary film "Creation Stories" is now available from your former label Creation. In it, label founder Alan McGee is characterized as a lively, hyperactive Scot in London with a doer syndrome and high drug consumption.
Blake: That sounds close to the truth. Alan was driven by impulses, he doesn't have a business strategy, but he believed in his bands. When we were in the studio for "Bandwagonesque" in 1991, Primal Scream recorded "Screamadelica" and My Bloody Valentine "Loveless" at the same time. The studio costs were astronomical, the label almost broke. McGee and his partner Dick Green paid the bills with mortgages on their condominiums. If the albums had flopped, the two could have hacked down.
McGinley: In the USA we were under contract with Major Geffen in the 1990s and the cultural difference to England could not have been greater. When we ordered beer there for lunch, the question was on every label face: Oh, what kind of problems does he have !? At a meeting in L.A. Geffen was supposed to speak to Creation. It was 11 a.m. in London, but it took forever to answer the phone. Just to yell against very loud music: Today is a holiday: It's Alan's birthday, we're throwing a party.
GaveIs there a moment in the career of the Teenage Fan Club when you would rather have been busking in Glasgow again?
Blake: No, the high point of street music in Glasgow was the incognito performance of Neil Young incognito in the mid-seventies at the Bank of Scotland. Then it went downhill.
McGinley: It's been a few decades since I last did this. We played Syd Barrett songs, but the passers-by had no sense of the artistic vision of a genius victim of LSD. We didn't get a penny.