What is Marketing Automation
Setting up different emails, generating leads, segmenting prospects - marketers are faced with a multitude of tasks that need to be implemented as efficiently as possible. The keyword? Marketing automation. But what exactly is behind this term and how can this concept relieve your marketing team in everyday life?
What is Marketing Automation?
Marketing automation - often also as Marketing automation - generally runs on a corresponding software platform. This helps you to prioritize various marketing tasks and then to automate them.
Marketing automation saves you time, effort and budget and can therefore work much more efficiently. In this way, automation contributes to the success of the entire marketing team.
The use of such software platforms can completely restructure the everyday life of marketers, because they receive support with
sending e-mails,
the generation and segmentation of leads,
publishing and disseminating targeted content,
publishing posts on social networks,
evaluating leads and
customer loyalty.
How is marketing automation used?
Half-truths have always circulated about the definition of marketing automation. The fact is: It's not just a nicer term for email marketing, it doesn't send fruitless spam, and it's not THE solution for lazy marketers either.
Instead, different automated workflows which, on the one hand, make your work easier and, on the other hand, turn unknown visitors into customers.
Workflows can be established using marketing automation tools for the following areas:
Lead generation
Automated processes can help with lead generation. To do this, use calls-to-action, contact forms and landing pages - the process is then as follows:
For example, a visitor lands on one of your blog posts via organic search and thinks the content is interesting.
To get more information on the topic, he clicks on the call-to-action you attached.
With his click he is automatically redirected to a landing page. There he will find a form in which he can enter his contact details and then send it off.
By submitting the contact form, he receives - again automatically - access to the desired information.
With the help of these modules, the visitor is automatically converted to a lead and ends up in your contact database together with their data.
Lead segmentation
If the leads land in the contact database, lists can be created into which the leads are automatically sorted - for example based on certain criteria, such as
downloaded content,
Willingness to buy,
Demographics,
completed workflows or
certain interactions with your content.
With the help of these lists, you can adapt your content to your prospects much more easily and distribute it in a targeted manner.
Email Marketing & Lead Nurturing
As soon as visitors convert to leads, they become attractive to the marketing team - because not every prospect is immediately convinced of your products or services. Here it is important to maintain and promote contact with potential customers with the help of so-called lead nurturing.
In this case, marketing automation in the form of email marketing is a good choice: You can use it to send automated, personalized emails that you can use to keep the leads up to date with important updates, give them tips or respond to new blog posts Clues. Because we know exactly how important these emails are, we have added our email tool to our free CRM.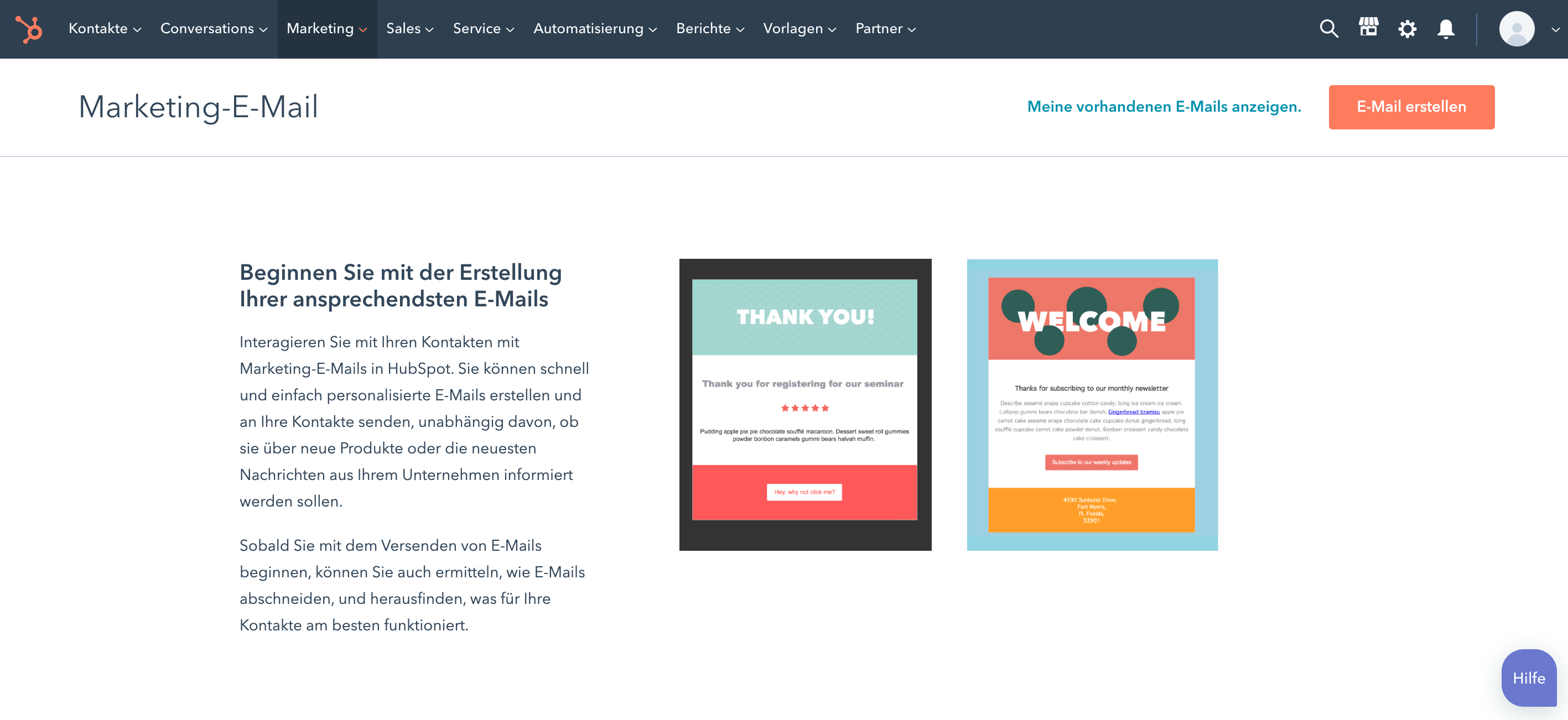 Image: HubSpot Email Tool
Among other things, you can find out which of your emails convert best and how often leads visit your website before making a purchase.
But first of all let's get some inspiration: mymuesli, for example, relies entirely on personalized mailings. At the beginning, leads are addressed by their first name in order to build a basis of trust. In addition, mymuesli provides information - in keeping with the season - about a limited offer, which is optimally presented on a high-quality photo.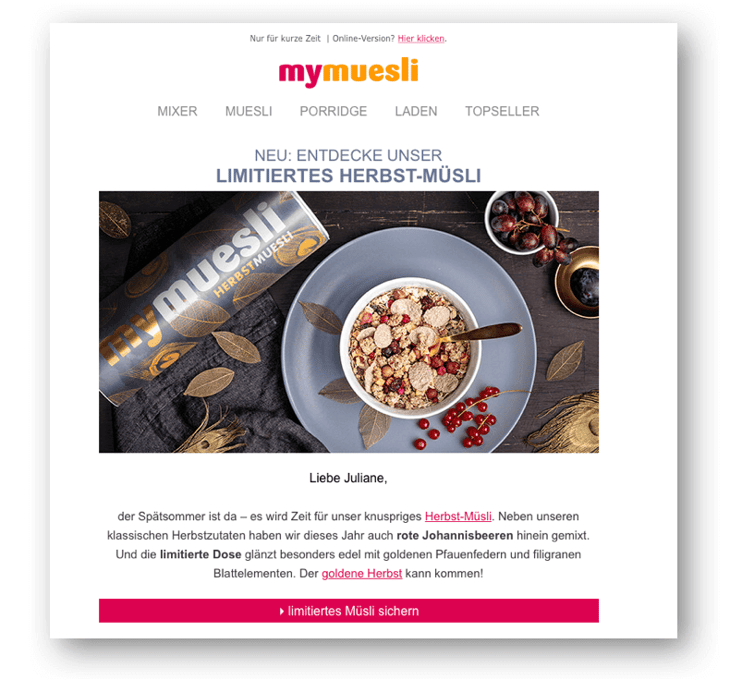 Image: Screenshot of an email from mymuesli
Lead scoring
With a workflow for "lead scoring" you can automatically classify the leads in your database: you sort your leads according to their progress in the buying process. This is achieved with a scoring system, for example according to points or according to certain phases. Each action that a lead can perform is then given a set number of points or assigned to the respective phases. If leads now carry out various actions, they automatically receive the predetermined number of points or are assigned to a specific phase.
In this way, you can automatically qualify your leads for further nurturing measures and ultimately for the sales team.
Marketing automation & inbound marketing - how do they fit together?
Marketing automation can be perfectly combined with a well-designed inbound marketing strategy. In inbound marketing, the focus is on buyer personas and the buyer's journey: The right content should be made available to the right recipients at the right time. It is precisely this communication between companies and prospects and customers that should improve automation - via personalized e-mails, the provision of targeted content and lead nurturing.
In the Inbound Marketing Automation So no workflows are created for the sake of the workflow - but to guide the interested party through the buying process until they are ready to buy.
4. Best Practices: What should marketers be aware of?
Marketing automation is a powerful tool that supports marketers in their everyday life and offers them the opportunity to implement their tasks effectively and sustainably. There are a few best practices to help you achieve this:
Receiving new prospects and customers with open arms
As soon as visitors sign up for a newsletter, download premium content or even have already decided to take a look at your services or products, lead nurturing has to follow up directly. That means: You send personalized welcome e-mails that "feed" the leads with the first important information.
The online booking platform Hostelworld is setting a good example here: If a hostel has been booked via the browser, the platform sends a personalized email. In this, customers are made aware of the Hostelworld app. The personalization goes so far that customers are not only addressed and addressed by their first name, but the travel destination is also specifically mentioned.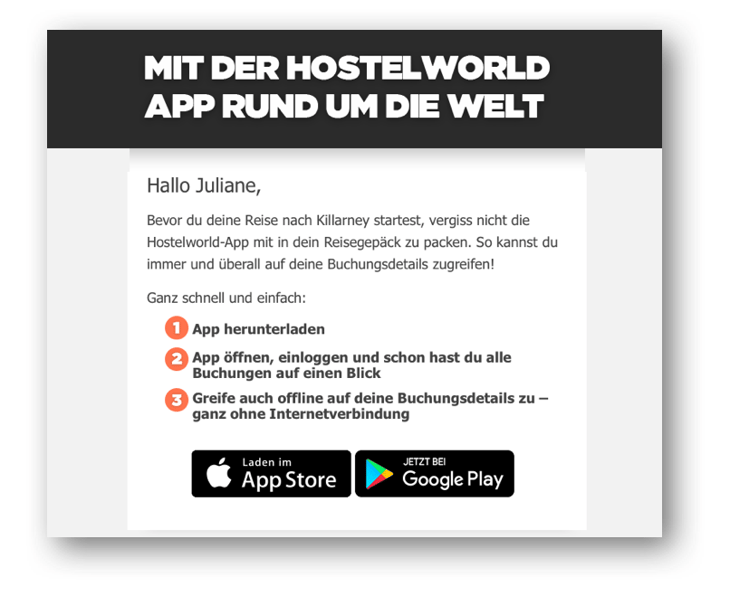 Image: Screenshot of a Hostelworld welcome email
Stay in touch with existing customers
If leads become customers, your marketing is far from over. Existing customers also want to be satisfied - on the one hand, so that they can buy something again or use your service in the future. On the other hand, so that they become promoters and recommend your products or services to others.
This is also possible through automated email marketing - for example with personalized follow-up emails that recommend similar products or provide information about news.
Clean databases regularly
With the help of automation measures, you can fill your contact database step by step. But if you don't clean them up regularly, chaos can quickly ensue. Ideally, you should check the contact details within a specified period of time - for example, once a quarter. Remove outdated contacts and update important information such as email address if necessary. In this way you avoid, among other things, that more and more e-mails are sent that do not reach the recipients.
Constantly update workflows
Creating and forgetting is not an option. Workflows make your day-to-day work easier, but they still have to be checked and adjusted on a regular basis. So analyze at regular intervals which of your measures are successful and which do not achieve the desired effect. Then adapt the automation rules and, if necessary, change the actions triggered by them.
Also, don't forget about social media! With Marketing Automation, posts for Facebook, Twitter and Co. can be planned for several weeks in advance. Nevertheless, you should also interact with your followers - because that is the main purpose of social networks.
Originally published November 7, 2017, updated 10 June 2020
Recommend this article: