Journalists never commit crimes
Freedom of the press in Germany: authorities have failed
Germany has slipped in the new press index from Reporters Without Borders. Media representatives are being attacked more and more frequently.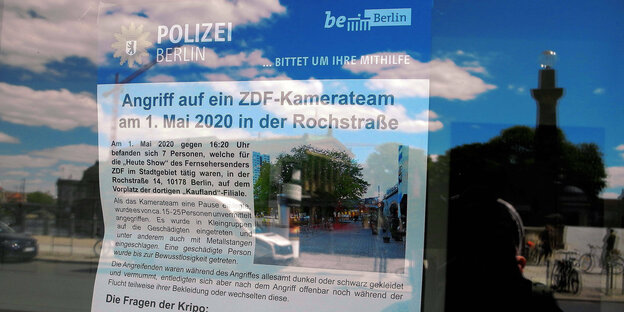 Police reconnaissance attempts after an attack on a ZDF team on the sidelines of a demo in Berlin 2020 Photo: Peter Meißner / Pemax / imago
The corona pandemic is a stress test for journalism. Critical reporting is more important than ever. And unfortunately, as the new press index from Reporters Without Borders (RSF) shows, also more dangerous. Self-proclaimed lateral thinkers have been taking to the streets regularly for over a year: hippies, conspiracy believers, right-wing extremists, families and hooligans have been demonstrating together against the federal government's corona policy. Their hatred is directed against "those up there" and, increasingly, against journalists as well. It is precisely these lateral thinker demos that lead to massive attacks. Media representatives: inside are no longer just insulted as "lying press", but physically harassed and threatened, occasionally such attacks also take place on the sidelines of left-wing demos. And the police, too, appear to be failing to protect the press more and more often, and to some extent hindering them in their work.
The violence against media workers in Germany has "reached an unprecedented level", according to Reporters Without Borders. For this reason, the organization is now downgrading the freedom of the press in Germany from "good" to only "satisfactory".
Media associations issue regular warnings that the threat situation has long been known in politics, and yet not enough is being done. Instead, new attacks happen every week on the fringes of demos. How is that politically responsible?
In November 2020, the Press Council presented the Conference of Interior Ministers with a revised proposal for the code of conduct between the media and the police. The request was: We need new rules.
Hardly anything has happened since then. There was no revision, the interior ministers are holding back. What an indictment! In a democracy, freedom of the press must be protected. If the authorities cannot do that, then they have failed.