How do we reuse waste paper?
Waste separation and recycling: How waste in the waste paper bin is harmful
Discarded exercise books, yesterday's newspaper, the empty shoebox. In Germany, paper, cardboard and cardboard belong in the blue bin or in the waste paper container.
In a recently published residual waste analysis (July 28, 2020), the Federal Environment Ministry and the Federal Environment Agency show that Germany only produces half as much residual waste as it did 35 years ago, but many recyclable materials end up in tons that they do not belong in.
5.2 percent of the waste paper was found in residual waste bins. Conversely, the disposal companies find so-called disruptive substances in the waste paper: "Pizza boxes with leftover food, wallpaper stained with glue, used paper tissues or coffee to go cups with a plastic coating also end up in the waste paper collections," complains Michael Schneider from the waste paper recycler Remondis, "although the contaminated papers would have to be disposed of as residual waste, building rubble or in the yellow sack."
Schneider appeals to consumers to separate paper waste as carefully as possible: "Everyone can do their part here, because the lowest possible amount of foreign matter, as is the case with paper clips, postage stamps and CDs, reduces waste costs."
Thomas Braun, Managing Director of the Federal Association for Secondary Raw Materials and Disposal, adds: "Glass splinters, oil, yoghurt or detergents have a particularly destructive effect, because these contaminating impurities cannot be separated from the waste paper."
Contamination was also a reason for the People's Republic of China to massively restrict imports of waste paper. The Chinese Ministry of Ecology and Environment has now announced that it will not accept any applications for waste paper imports for 2021.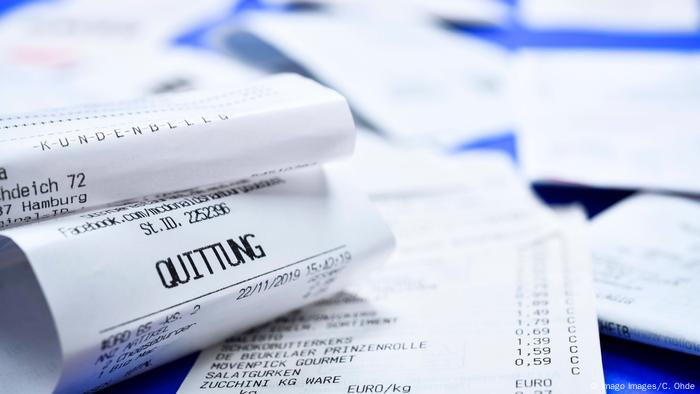 Provided with writing that fades after a while and when exposed to light: thermal paper, printed without color
Contaminated waste paper cannot be recycled
Another annoyance are shopping receipts made of coated thermal paper. These are chemically treated with heat rather than paint to make letters and numbers visible. The coating also contains the environmental hormone bisphenol.
According to the Fraunhofer Institute for Molecular Biology and Applied Ecology (IME) and the Federal Environment Agency, the chemical can have a lasting effect on the human hormone balance and impair the fertility of men and women. Environmental organizations such as BUND have therefore been calling for the substance on thermal paper to be banned for years.
The Federal Institute for Risk Assessment also considers receipts to be problematic due to the chemical composition and production from fresh fiber paper and relies on the European Chemicals Agency's requirement to limit the use of bisphenol in thermal paper to 0.02 percent. And so the European Parliament demanded a complete ban on the toxic chemical from the EU Commission. The Association of German Paper Mills writes to DW that bisphenol is not used at all, "because the 0.02 percent limit makes technical use obsolete."
In any case, these receipts, although made of paper, do not belong in the paper bin. They should be disposed of in the residual waste.
Remondis spokesman Michael Schneider says that contrary to all expectations, the proportion of notes in the garbage was marginal in the first half of the year, although every receipt has to be printed out and theoretically handed over to the customer since January 1st, 2020. The disposal companies cannot yet say to what extent the changed purchasing behavior due to the COVID-19 pandemic has contributed.
More on the subject: Garbage boom: And again the waste paper bin is full
Wear and tear when recycling paper
But even cleanly separated waste paper cannot continue in an eternal cycle. After seven cycles at the latest, it is over, says Holger Autenrieb from Niederauer Mühle. His company specializes in the recycling of beverage cartons for milk, juices and sauces. In just two and a half hours, the packaging is shredded and the contents of cardboard, polyethylene film and aluminum are separated.
The cardboard forms the basic material for new packaging such as shoe or pizza boxes. These consist of 100 percent waste paper. Plastic and aluminum are sent to cement factories for recycling.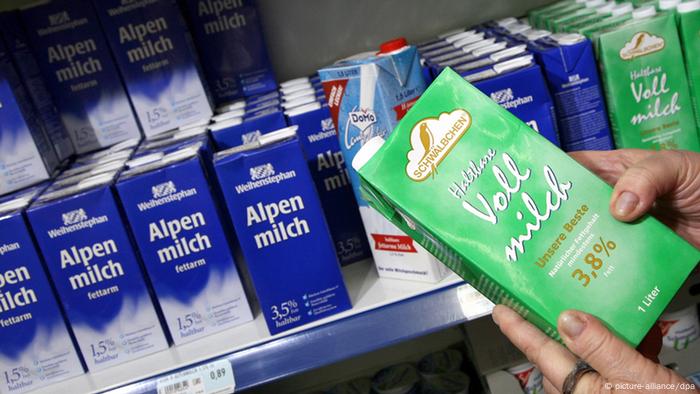 Perfect material cycle: Tetra-Pak is used to produce paper, aluminum and plastic
Graphic papers such as newspapers, stationery, magazines, catalogs, books, greeting cards and wrapping paper, as well as cardboard and cardboard boxes have different qualities. The dealers have to separate 67 types of waste paper for further processing.
In the European Union, waste paper is diligently collected and recycled. According to the European Council for Paper Recycling (EPRC), almost 72 percent of the 56 million tons of waste paper that was generated in trade, industry, households and offices in 2018 was recycled, with countries such as Bulgaria, Poland and Romania having below-average paper recycling rates.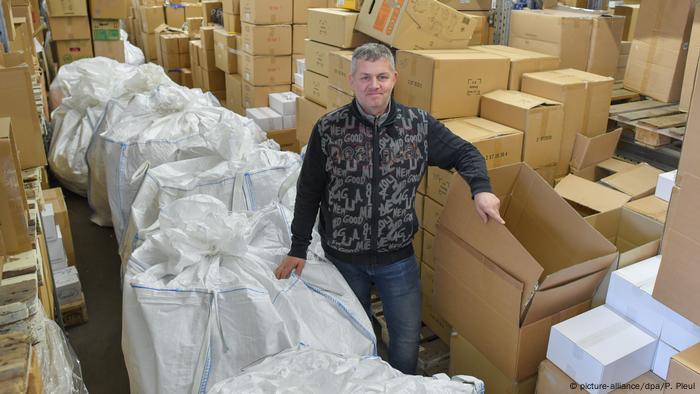 More and more goods are being sent by parcel. Here it is clothing for refugees in camps on the Greek islands
Environmentally harmful online trading
Newspapers and magazines are produced with high quality long cellulose fibers. With every recycling process, these fibers become shorter, cracked and unstable. Due to the increased internet trade, the general packaging craze and the consumption of digital news, more and more inferior waste paper is coming onto the market.
In Germany, there was less demand for graphic paper and newspapers (-8.3 percent) in 2019. For packaging paper, however, the Association of German Paper Mills reported an increase of 0.7 percent for the previous year. Less graphic paper and excess packaging reduce the quality of the waste paper. The paper processing industry must always counteract this with pulp from fresh wood.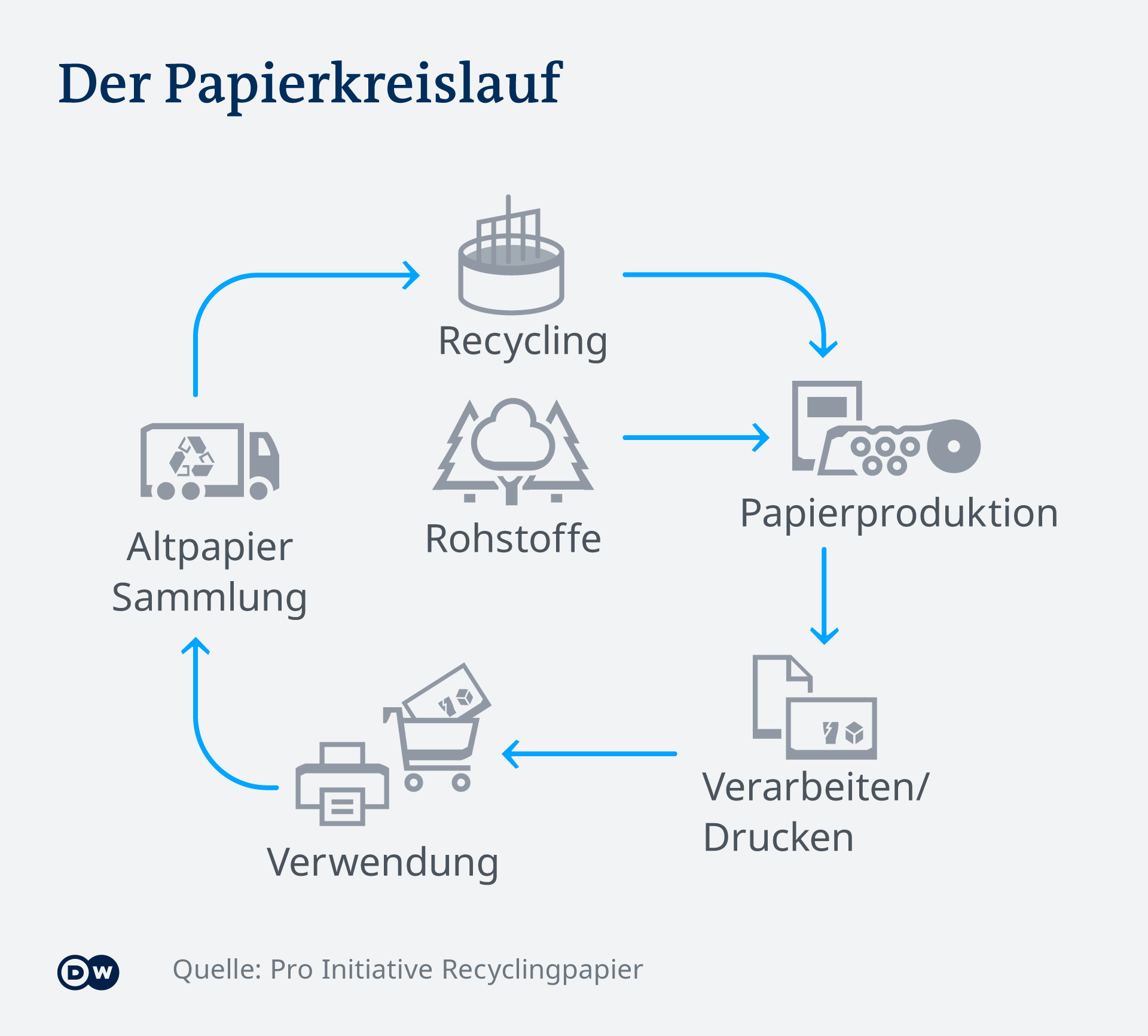 A task for the future: closing the paper cycle so that no more fresh wood would have to be felled
The raw material for fresh fiber paper is often obtained from cellulose that comes from eucalyptus monoplantations. Other woods come from northern forests in the USA, Russia, Canada, Sweden and Finland.
"Although most of the pulp for the global paper industry comes from forests in the northern hemisphere, tropical countries also play a role in pulp production. Almost a third, namely percent, of the pulp imported into Germany in 2014 came from Brazil," complains Birthe Hesebeck from the Tropical Forest Foundation Oro Verde. The pulp is often grown on species-poor plantations, which the local people refer to as "green deserts". "Usually the establishment and further expansion of cellulose plantations leads to what is known as indirect deforestation," explains Hesebeck. If the plantations are laid out on agricultural land, they have to be newly created elsewhere, after all they serve to feed the population. Large areas of species-rich rainforest have already been cleared in this way.
The Association of German Paper Mills contradicts through its spokesman Gregor Andreas Geiger: "All wood fibers that are used in Germany come from sustainably managed forests or certified plantations. No tropical forest has been cleared for this." The eucalyptus plantations would be created on former agricultural areas that were no longer agriculturally productive. The reason for the expansion of new agricultural areas at the expense of the tropical forest is not the reallocation of these areas in eucalyptus plantations, but simply unsustainable agriculture and the constant expansion of pasture areas and soya-growing areas.
Waste of resources
The Federal Environment Agency calculates that it takes five liters of water and two kilowatt hours of electricity to produce one kilogram of recycled paper. For the same amount of fresh fiber paper, 50 liters of water and five kilowatt hours of electricity are required.
It would therefore be even more sustainable to use packaging sparingly and to convert office and school paper supplies from products with the Blue Angel seal. The market share of office paper in Germany that is certified with the Blue Angel is currently only 16 percent. There is still great potential in public authorities and in the private sector, believes Lea Eggers from the Pro Recyclingpapier initiative: "If all office paper in Germany were to be converted to recycled paper with the Blue Angel, all households in a large city like Berlin could use the energy saved every year Be supplied with electricity. "
Also read: The greed for paper and its consequences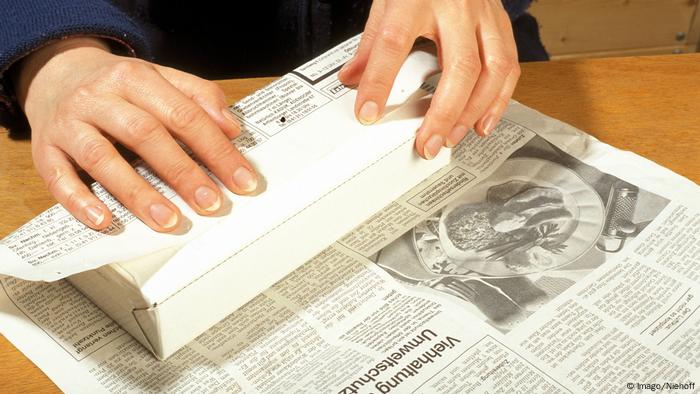 Why not wrap gifts in waste paper when the inner values ​​count anyway?