What's in Penang Malaysia
Penang / George Town: the best sights
One of the highlights on Malaysia's west coast is undoubtedly the island of Penang. The city of George Town, whose long list of interesting places already fills a daily program, has played a large part in this. But that's not all.
Disclosure: The article below contains referral links. If you buy or book something through these links, we receive a small commission. You have no disadvantage and you pay the normal price. You can also support our work and the further expansion of the site. Many Thanks! More info.
Are you planning a trip to Malaysia? Then you should definitely make a detour to Penang. In this article you will find the best sights at a glance. Discover the highlights from the fields of nature, culture and history and make your stay unforgettable.
Accommodation tip for your stay in Penang (George Town):
This is what modern rooms in a central location offer Neo + Penang. A highlight is the pool on the roof terrace with a great view of Penang. Good value for money. Here you can have a look at the hotel on Booking.com or Agoda.
You can find further hotel tips in different price ranges as well as recommendations for tours at the end of the article.
All tips for your trip to Malaysia
Inspiration: Most beautiful destinations ✭ Pictures ✭ Backpacking in Malaysia ✭ Book a round trip ✭ Flights: Cheap plane tickets, domestic flights ✭ Travel planning: Malaysia packing list, best travel time, visa & immigration, money & finances, best travel credit card, travel guide ✭ Traveling with children ✭ Health : Vaccinations, first-aid kit, travel health insurance ✭ On site: Find hotels, excursions & tours, transport, train tickets, bus tickets, ferry tickets ✭ Our Malaysia Facebook group
To the Malaysia blog
Penang: the most beautiful temples, mosques and churches
Because so many different religions coexist in George Town, part of the city center is also called the Street of Harmony. Buddhist and Hindu temples, mosques and Christian churches are almost next door to each other.
Goddess of Mercy Temple
In Georgetown is the "Goddess of Mercy Temple", the temple of the Goddess of Mercy. It is precisely this goddess Guan Yin that has roughly the same meaning in the three teachings of China (Confucianism, Taoism and Mahāyāna Buddhism) as St. Mary does in Christianity.
The temple dedicated to her in George Town is the oldest Taoist temple in Penang and is located in the city center.
Address: 30, Jalan Masjid Kapitan Keling, George Town, 10200 George Town, Pulau Pinang, Malaysia
Kek Lok Si Temple
In the sleepy village of Air Itam is the magnificent Kek Lok Si Temple. The so-called "Temple of Supreme Happiness" is one of the largest Chinese Buddhist temples in Southeast Asia.
Since it is practically on the other side of Penang Hill as seen from George Town, a visit to the two sights can be easily combined.
Website: kekloksitemple.com/
Address: 1000-L, Tingkat Lembah Ria 1, 11500 Ayer Itam, Pulau Pinang, Malaysia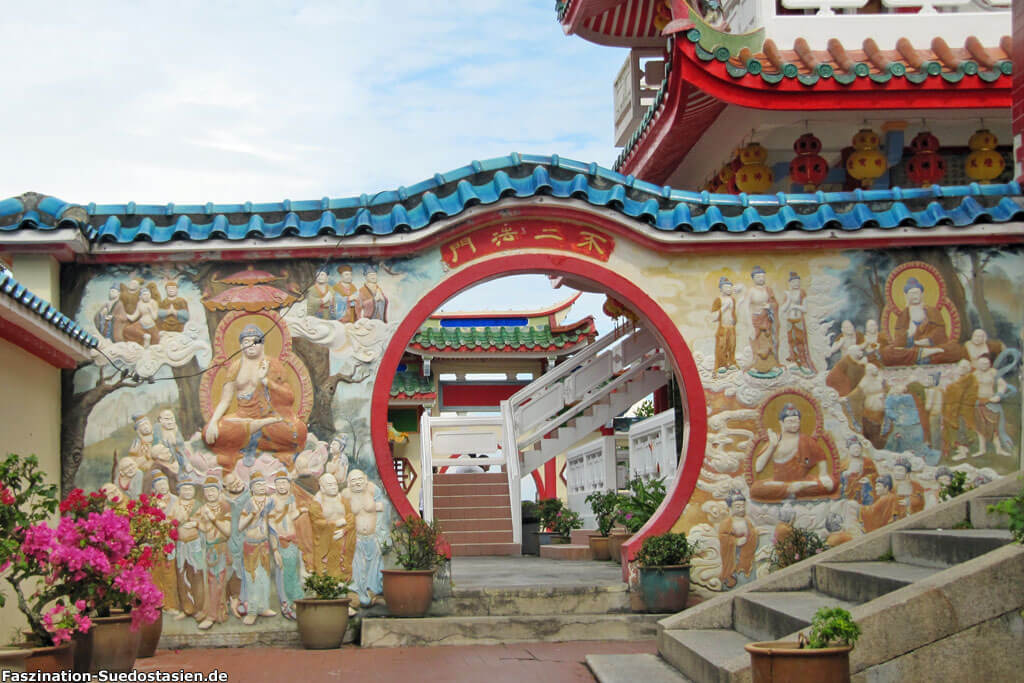 Kapitan Keling Mosque
It is no coincidence that the name of this beautiful mosque is reminiscent of the word "captain", as it was named after the head ("captain") of the first South Indian Muslim community (called: "Keling") in Penang.
The Kapitan Keling Mosque was built in 1801. Outside of the five daily prayer times, visitors are very welcome. Guided tours are offered free of charge.
As in every mosque, the shoes are to be taken off at the entrance, women are only allowed to enter the mosque with veils, which are lent for free here. The mosque is located in the city center of Penang and admission is free.
Address: 14, Jalan Buckingham, George Town, 10200 George Town, Pulau Pinang, Malaysia
Wat Chaiya Mangkalaram
Where so many cultures meet, Theravada Buddhism, which is widespread in Southeast Asia, is not far. In George Town this manifests itself in the beautiful Thai temple Chaiya Mangkalaram.
During her reign, Queen Victoria gave both the Thai and Burmese communities their own land (right next to each other), each of which built a temple in its own traditional style. You can visit Wat Chaiya Mangkalaram and its reclining Buddha daily from 10 a.m. to 6 p.m.
Address: Wat Chayamangkalaram, 10350 George Town
Dhammikarama Burmese Temple
We already explained how and why the Dhammikarama Temple came to George Town at Wat Chaiya Mangkalara - only the Burmese temple has the additional feature of being the only one of its kind abroad.
There are no other Burmese-style temples outside of Myanmar. You can visit it every day from 5 a.m., and it is open until 6 p.m.
Address: 24, Jalan Burma, Pulau Tikus, 10250 George Town, Pulau Pinang, Malaysia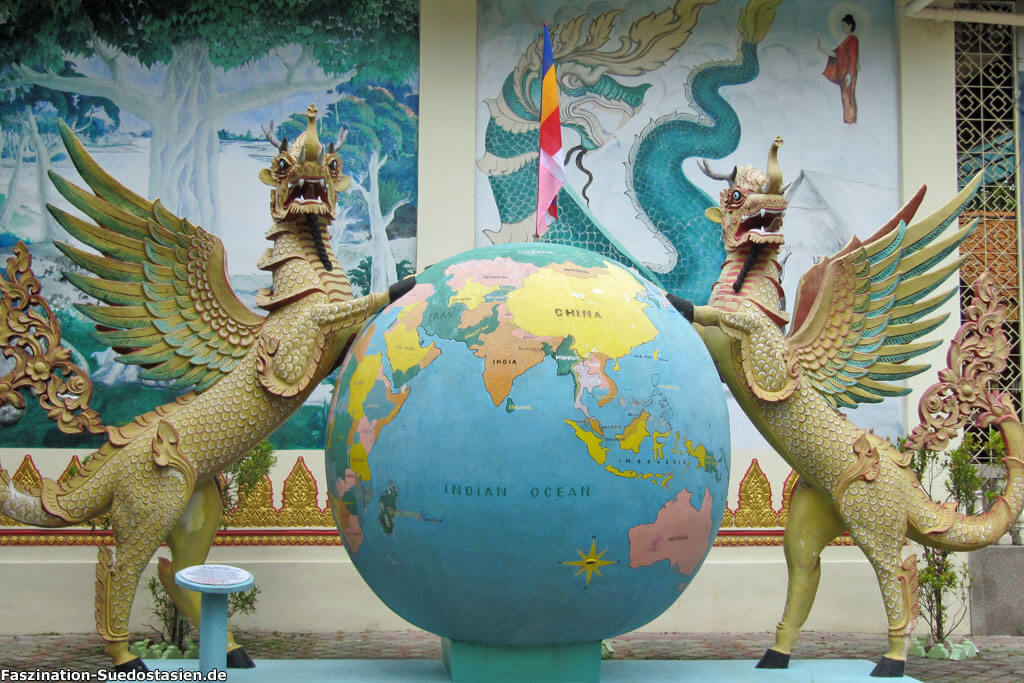 Sri Mariamman Temple
And when we are in the process of listing the important temples of all world religions in George Town, the Hindu temple Sri Mariamman should of course not be missing. The oldest of all Hindu temples in Penang is of course located in the Little India area.
It may not impress with its sheer size, but it makes up for it with its lively religious community, which also makes the area around the temple so worth experiencing.
The Sri Mariamman Temple is open to visitors daily from 6:30 a.m. to 12:00 p.m. and 4:30 p.m. to 11:00 p.m.
Address: Lebuh Queen, George Town, 10450 George Town, Pulau Pinang, Malaysia
Hock Teik Cheng Sin Temple
On Armenian Street in George Town is the Chinese Hock Teik Cheng Sin Temple, the temple of the Hokkien clan from 1850.
It is dedicated to the Taoist god of wealth, Tau Pek Kong. It is open during the day without fixed opening times, and entry is free.
Address: 57, Lebuh Armenian, George Town, 10200 George Town, Pulau Pinang, Malaysia
St. George's Church
Another beautiful testimony to the unsightly colonial era is St. George's Church in George Town. The Anglican Church was founded in 1819, so this year it celebrated its 200th birthday.
Sunday services and other Christian events are still held here, but the building in itself is well worth a visit.
Website: stgeorgeschurchpenang.com/
Address: 1, Lebuh Farquhar, George Town, 10200 George Town, Pulau Pinang, Malaysia
Penang: colonial buildings
In 2008 George Town was declared a World Heritage Site. And whoever has been there once knows why. Different cultures have shaped the cityscape over the centuries, so that you often only have to go around a corner to have the feeling of being in a completely different place.
For example, there is the influence of the Europeans. Penang was under British rule for a long time. It was not until 1957 that the island became independent again and since 1963 it has belonged to Malaysia. Legacies from the colonial era include Fort Cornwallis and City Hall.
Fort Cornwallis
The fort on the George Town coast is the largest fort in Malaysia and was built in the 18th century by the British East India Company.
At that time, Penang was frequently ravaged by pirates, so the fort served as a bastion of defense. Today it is also part of the urban history and can be visited daily.
Website: theesplanadepark.com.my/
Address: Jalan Tun Syed Sheh Barakbah, George Town, 10200 George Town, Pulau Pinang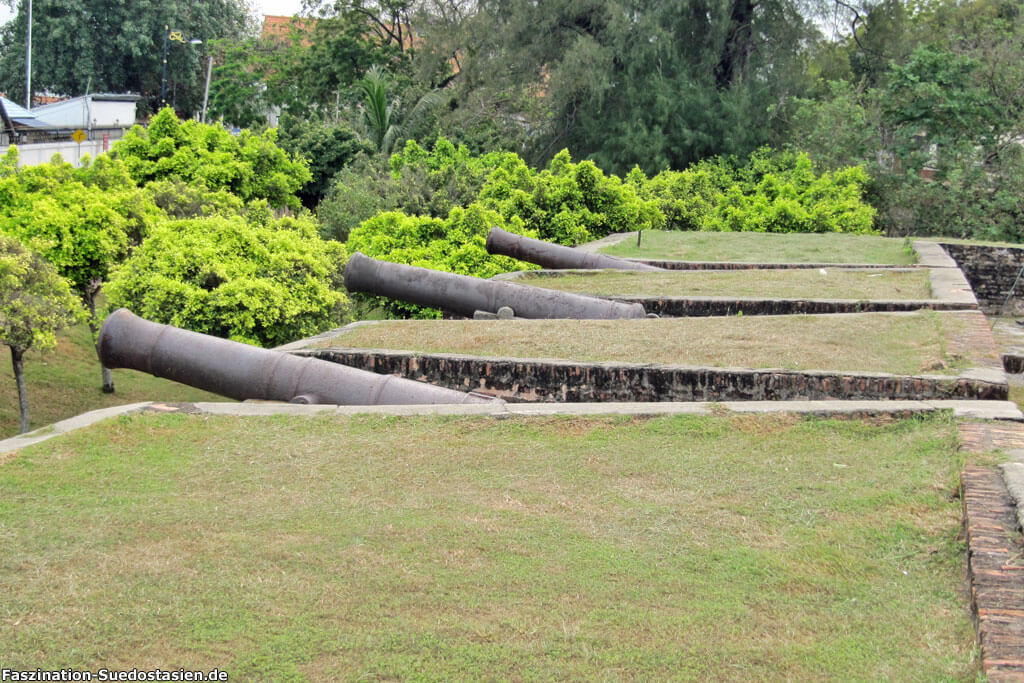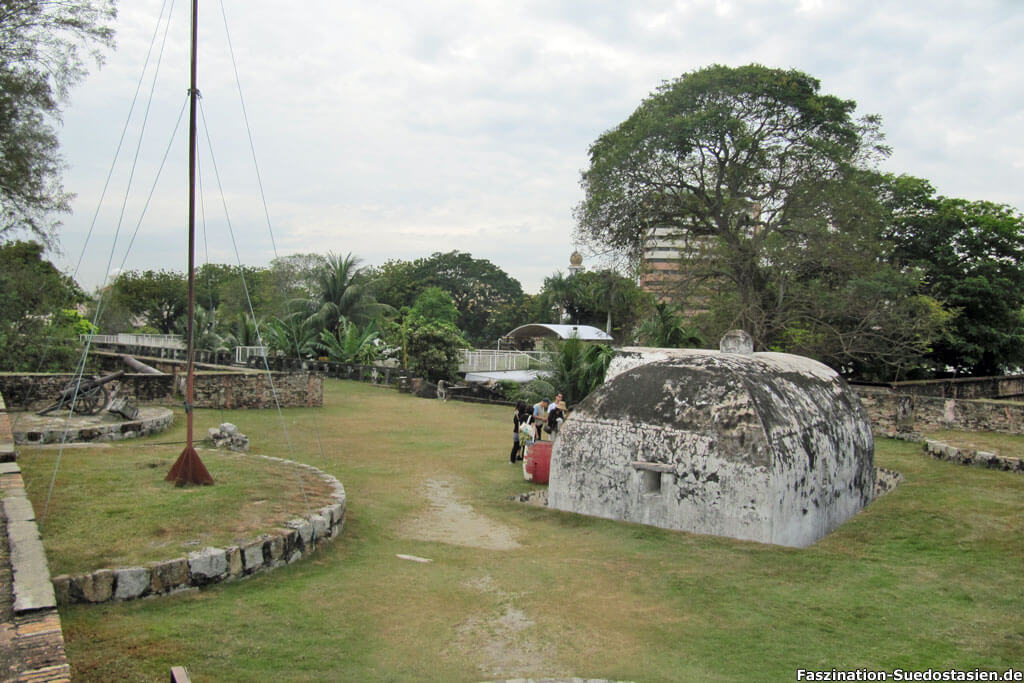 Queen Victoria Clock Tower
This legacy of former British colonial rule can be found in Georgetown. As the name suggests, it was dedicated to the British Queen Victoria on the occasion of her 60th anniversary to the throne.
If you look closely, you might notice that the clock tower is a little slanted - a consequence of the war.
Address: Lebuh Light, George Town, 10450 George Town, Pulau Pinang, Malaysia
City Hall Penang
City Hall, translated as town hall, is the current seat of the government of Penang - of course, who wouldn't want to work there?
The town hall looks more like a palace, and was built by the people who are very familiar with palaces: the British.
City Hall is a UNESCO World Heritage Site George Towns and is located in the center of the city. Unfortunately, visitors can only marvel at the building from the outside.
Address: Jalan Padang Kota Lama, George Town, 10200 George Town, Pulau Pinang, Malaysia
The best travel credit card for Malaysia
You can save a lot of money on your travels with the right credit card. Here you can find out which cards you can use to withdraw cash free of charge worldwide and pay in local currency at no additional cost. And who is currently the only provider who reimburses you for third-party fees at the machine, for example in Thailand or Vietnam.
Here is the credit card comparison
Penang: special districts / places
George Town offers a considerable mix of different cultures and religions. There is, for example, the Chinese quarter. Many traders once settled here and even today there are still Chinese streets with the corresponding shops and restaurants.
Almost directly next door is the Indian quarter with many small shops and street stalls. You can eat very well here. The Indian influence ensured that Penang became the culinary highlight in Malaysia for me.
Street Art in George Town
George Town is now best known for one thing: Street Art. And we're not just talking about simple graffiti pictures. Here, artists like Ernest Zacharevic mix real objects (such as bicycles) with artistic wall paintings and thus create 3-D street art that is second to none.
The most famous works can be found e.g. in Penang Street, Chulia Street and Armenian Street. You can find detailed information in the Street Art Guide of the Penang Tourism Authority.
Address: Georgetown, Penang, Malaysia
Chinatown and Little India
Penang is a great cultural melting pot, in which different nations, cultures and religions live together carefree and naturally. If you are not staying there anyway, detours to Chinatown and Little India in Georgetown are particularly recommended.
In both parts of the city you can immerse yourself in the culture and feel as if you have spontaneously traveled to another country. And also: eat first class.
Website: https://mypenang.gov.my/
Address Chinatown: Chinatown, Penang, Malaysia
Address Little India: Little India, Penang, Malaysia
Penang Hill
About 6 kilometers outside George Town is Penang Hill, the highest mountain on the island (830 meters).
To enjoy the view, you can hike for about three hours from the Botanical Garden. Alternatively, like more than 99% of visitors, you can take the mountain railway for the equivalent of around 6 euros. Once at the top you have a fantastic view of Penang and Georgetown to the coast.
Especially on weekends there can be longer waiting times.
Website: penanghill.gov.my/
Address: Penang Hill, Malaysia
Batu Ferringhi
When it comes to Penang, most travelers only know one destination: George Town. The capital is justifiably popular, but if you prefer to go to the beach, the coastal town of Batu Ferringhi would be an option.
There are big hotels on the beach and a nice night market. There are regular buses between Batu Ferringhi and George Town - halfway there is a stop in Tanjung Bungah to visit the Penang Floating Mosque.
Address: Batu Ferringhi
Penang: museums
A place with such an interesting history naturally also houses some museums. But in addition to the classic places of remembrance, there are also museums where fun is more of a priority.
Penang State Museum and Art Gallery
A former school in George Town is now the Penang State Museum and the attached art gallery. Paintings, art objects and other artifacts are exhibited here, which bear witness to the eventful history of Penang. The museum is open Saturday through Thursday from 9 a.m. to 5 p.m.
Website: penangmuseum.gov.my
Address: Lebuh Farquhar, George Town, 10450 George Town, Pulau Pinang, Malaysia
Upside Down Museum
Nomen est omen: the world is upside down in the Upside Down Museum. Of course, the museum and its theme are somehow predictable, but that doesn't make it any less entertaining.
Especially on rainy days or with children in your luggage you will find a good hour of entertainment here. Don't forget your camera - funny vacation photos are guaranteed! Entry is 27 ringgit (around 5 EUR) and the museum is located in the city center.
Website: facebook.com/pg/upsidedownmuseum/
Address: 45, Lebuh Kimberley, George Town, 10100 George Town, Pulau Pinang, Malaysia
Wonderfood Museum
If you love curious and kitschy museums and the Upside Down Museum has really got you covered, the Wonderfood Museum would be the next logical stop.
You can see: oversized food made of plastic. And here, too, it is essential to bring your camera with you so that you can take photos of yourself in front of an oversized plate of noodle soup (so that you look very small yourself).
Where else can it be so fun to feel like a tourist? Entry is 25 ringgit.
Website: facebook.com/Wonderfoodmuseum/
Address: 49, Lebuh Pantai, George Town, 10200 George Town, Pulau Pinang, Malaysia
Penang: More attractions
There are also many other highlights on Penang. Here is a selection.
Khoo Kongsi clan house
The word "Klan" actually only refers to a large family group, but the word itself has a negative connotation in our West.
But it doesn't have to be: clans or large families were and are of great social importance in the Far East and initially have nothing to do with mafia-like structures.
When trade flourished in Penang in the mid-19th century, some Chinese clans moved to Penang and built magnificent houses there. Today they are part of the city's cultural heritage and open to visit.
Website: khookongsi.com.my/
Address: Khoo Kongsi Clan House, Penang, Malaysia
Penang Botanic Garden / Waterfall Garden
This lovely little oasis of calm is just outside the busy center of George Town. The botanical garden consists of many small themed gardens that provide visitors with knowledge about the plants grown there.
The highlight is definitely the waterfall, which has given the facility the nickname "Waterfall Garden". The botanical garden is open every day from 5 a.m. to 8 p.m., admission is free.
Website: botanicalgardens.penang.gov.my
Address: Kompleks Pentadbiran, Bangunan Pavilion, Jalan Kebun Bunga, 10350 George Town, Pulau Pinang, Malaysia
Entopia Butterfly Farm
If you think you've seen great butterfly farms, you haven't been to "Entopia". The design is reminiscent of a small version of the Flower Dome in Singapore.
Inside the facility, under a huge glass roof, there is a beautiful tropical garden in which - of course - thousands of butterflies live.
You can also marvel at frogs, scorpions and lizards in terrariums. There are also special entertainment programs for children.
Entopia is open daily from 9 a.m. to 6 p.m., admission is the equivalent of around 14 euros for adults and 10 euros for children. The butterfly farm is located in Teluk Bahang, around 30 minutes' drive from George Town.
Website: entopia.com/
Address: No.830, Jalan Teluk Bahang, Teluk Bahang, 11050, Pulau Pinang, Malaysia
Penang National Park (Taman Negara Pulau Penang)
Malaysia is known for its amazingly beautiful nature, among other things, and Penang is no exception.
In the northwest is the Penang National Park. Despite the rather small area of ​​25 km², you can discover some wild animals, such as monkeys, here.
Website: wildlife.gov.my/
Address: Pejabat Taman Negara P. Pinang, jalan Hassan Abbas, 11050 George Town, Penang, Malaysia
Tropical Spice Garden
Something that you should definitely have done as a European tourist is a trip to a spice garden. You can also find one on Penang.
There you will learn what aromatic plants look like before their fruits or leaves are harvested, which then make our food so aromatic.
A visit is interesting and recommended for all age groups. Admission is around 7 euros for adults and 4 euros for children. The garden is open daily from 9 a.m. to 6 p.m., and guided tours and cooking classes are available at an additional cost.
Website: tropicalspicegarden.com/
Address: Lot 595 Mukim, 2, Jalan Teluk Bahang, Teluk Bahang, 11050 George Town, Pulau Pinang, Malaysia
Clan Jetties
Another unique selling point of George Town are the so-called Clan Jetties.We have now explained what clans are - but jetties?
Chinese immigrants once built their own villages on stilts in the water along the coast, and each village has its own jetty - the "jetties". There are still six jetties left today.
You can reach them at the end of Armenian or Chulia Street if you are walking towards the coast.
Address: Pengkalan Weld, George Town, 10300 George Town, Pulau Pinang, Malaysia
Tropical Fruit Farm
The beautiful Tropical Fruit Farm is located in the "highlands" of Penang, in Teluk Bahang. The complex is a large orchard dedicated to cultivating both native and rare foreign fruits and providing visitors with knowledge about them.
The organization offers guided tours - with tasting of course! Admission is around 9 euros for adults and 7 for children.
Website: tropicalfruitfarm.com.my/
Address: 18, Nile Stone, Jalan Teluk Bahang, Teluk Bahang, 11050, Pulau Pinang, Malaysia
Hotels & Tours
Finally, a few quick tips for your stay in Penang (George Town).
Hotels & Accommodation:
Inexpensive but good: The Page 63 is one of the most popular hostels in George Town. A bed in the dormitory is available from 7 euros per night. There are also inexpensive double rooms. Good location with many attractions in the neighborhood (Booking.com / Agoda). The Islander Lodge is also very popular and top-rated. Inexpensive double rooms in a very good location. (Booking.com / Agoda).
More comfort: The popular Neo + Penang offers at a good price-performance ratio. The highlight is the pool on the roof terrace. From up there you have a good all-round view of George Town (Booking.com / Agoda). The Jen Penang by Shangri-La meets all expectations of a modern hotel. Chic rooms, pool and fitness area - all in a central location (Booking.com / Agoda).
Pretty chic: The hotel The Blue Mansion is housed in a mansion in the Chinese court style. The building and equipment offer an incredible amount of flair and attention to detail. Great place to stay (Booking.com / Agoda). That offers pure luxury Eastern & Oriental. The hotel is housed in a listed building from the 19th century. Toe oceanfront location. (Booking.com / Agoda).
Tours and excursions:
There is a lot to experience in George Town! Street food tours in the evening are particularly popular with visitors.
Day trips include: a trip to Penang Hill (including Kek Lok Si Temple) or a bike tour through George Town. Or you can put together your own route with Penang highlights as part of a private guided tour.
We need your support!
Due to the corona crisis are almost all income broke away practically overnight from the fascination of Southeast Asia. Nevertheless, we will continue to report updated daily about the situation on site, expand our content and update existing posts. So that this is still possible, we need your support. With a membership or a one-time donation, you help ensure that we can continue to create useful content for Southeast Asia travelers in the future. THANKS!
How can I help?
Photos:
Clock Tower in George Town, Panorama Kek Lok Si Temple, Khoo Kongsi Clan House, Waterfall Botanical Garden, Clan Jetty and Tropical Spice Garden from Shutterstock.com
Wonderfood Museum by Ellinnur Bakarudin / Shutterstock.com
Entopia Butterfly Farm by C.S Tan / Shutterstock.com
Hock Teik Cheng Sin Temple by Peera_stockfoto / Shutterstock.com
Did you like the article? Then divide it up:
About the author
Stefan has been traveling to the countries of Southeast Asia since 2006 and often spends several months there. In 2013 he founded Fascination Southeast Asia and has since written several eBooks and books on the subject (including the insider travel guide "555 Tips for Bangkok"). Between his travels he lives and works in Düsseldorf.
Similar articles: