Which is the best watch from Aliexpress
Chinese watch brands on AliExpress: a cheap alternative to fakes
Many go to AliExpress to look for counterfeits of well-known watch brands (Omega, Rolex, Hublot, Panerai, Casio, Tag Heuer, Cartier ...) but there are more and more who are also interested in the Chinese brands.
Check out the smartwatches on AliExpress here.
The watches from Chinese brands are becoming more and more respected because, in addition to being cheap, they are also sophisticated and have very reliable technology. "Chinese" is no longer a synonym for poor quality: The clocks from Curren, Lemfo, Shark, Weide, Megir etc. have nothing to do with the clocks that you have seen in junk shops all your life.
There are also Chinese brands that specialize in all sorts of types of watches: brands that specialize in classic or modern men's and women's watches, or cheap smartwatches that appear to be selling very well.
Let's go through all the brands!
Chinese top brands that are better than the fakes
Lemfo: The Chinese smartwatch in general
Are you looking for a smartwatch at the best price on the market? Lemfo is without a doubt the Chinese manufacturer of smartwatches and the favorite choice for those who cannot afford an Apple Watch or are curious about the world of wearables.
Lemfo Lem1: The "Chinese Apple Watch" that is successful on AliExpress
In quotation marks it is one of the "expensive products" because the Lemfo LEM1, although it is Lemfo's top product, only costs between 70 and 80 €. Their real price is probably much higher, but all sellers are currently offering this product in this price range.
It is a Chinese smartwatch with acceptable functions. But its strength lies, in my opinion, in its appearance: it is a unisex watch that is available in three different colors (silver, gold and black). It is made of stainless steel and has a very comfortable and durable leather strap that can be black or brown depending on the seller.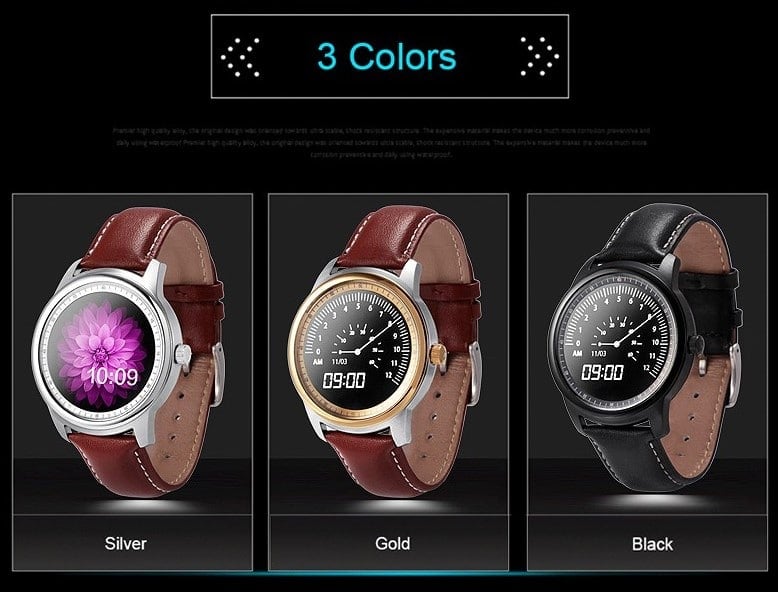 The display is Full HD and the thickness is appropriate: 0.98 cm, i.e. exactly one centimeter.
Here you can see an unboxing in English:
As you have seen in the video, the clock can look different. One variant is similar to the Samsung Gear S2.
It is charged with a magnetic charger that is attached to the outside.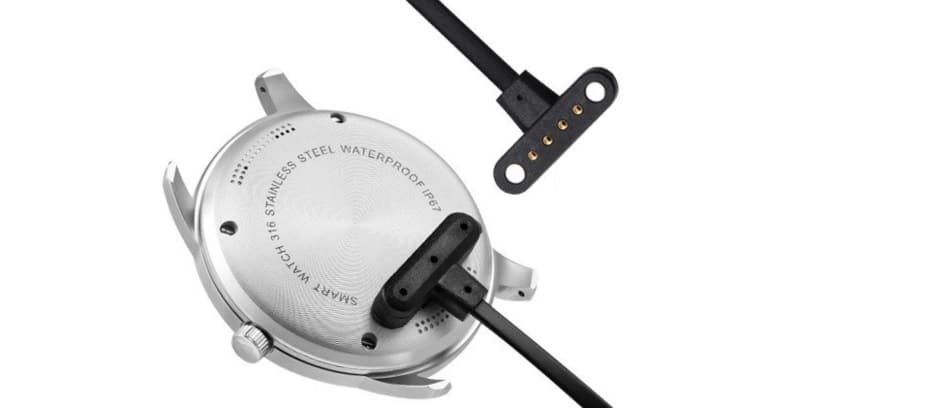 It has a remote control for music, a pedometer, sleep monitoring and is waterproof. You should also pay particular attention to the interaction with Siri, with which you can call, search for information and do everything else as if it were a cell phone.
Another interesting detail is the remote control of the camera: we can take photos with our mobile phone from a distance, just by touching our watch.
More watches from Lemfo that put the counterfeits in the shade
We discovered the Lem1 because of its numerous sales on AliExpress, but the manufacturer Lemfo has many other very interesting and attractive models. Definitely worth noting is the Lemfo LF07, which will surely remind you of another pretty well-known smartwatch: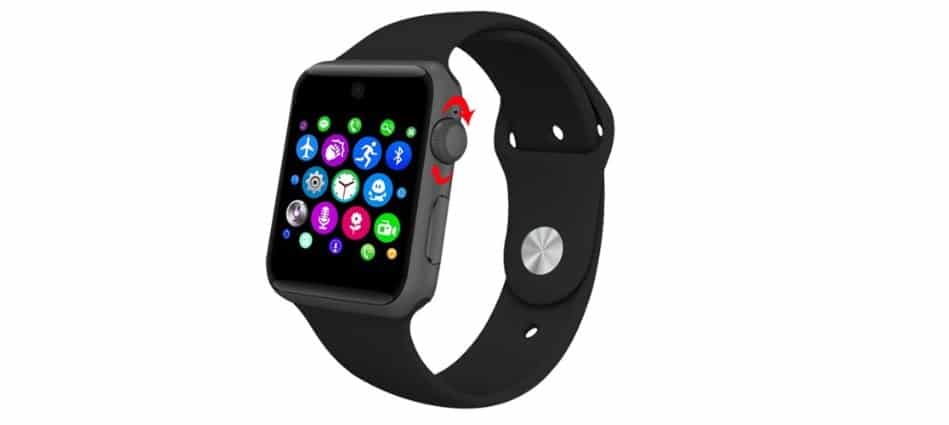 ?
Click here to see all Lemfo watches on AliExpress.
Curren: Watches that are almost as elegant as a Rolex ... for € 10
Curren is a very well respected Chinese watch manufacturer. This is also confirmed by the orders on AliExpress. I was surprised by the number of sales, so we checked the buyers' comments and they confirmed what we suspected. The quality does not match the low price. There are men's and women's models.

As you can already see in the picture, there are different models, more casual, more formal, sporty or classic for less than 20 €. But don't think that Curren is an unknown brand: They have been making watches for several years and all of them come with a guarantee.
Here you can see a boy unboxing two Curren watches (in Portuguese):
We recommend that you take a look at Curren here.
Thousands of orders on AliExpress
This is the best selling watch: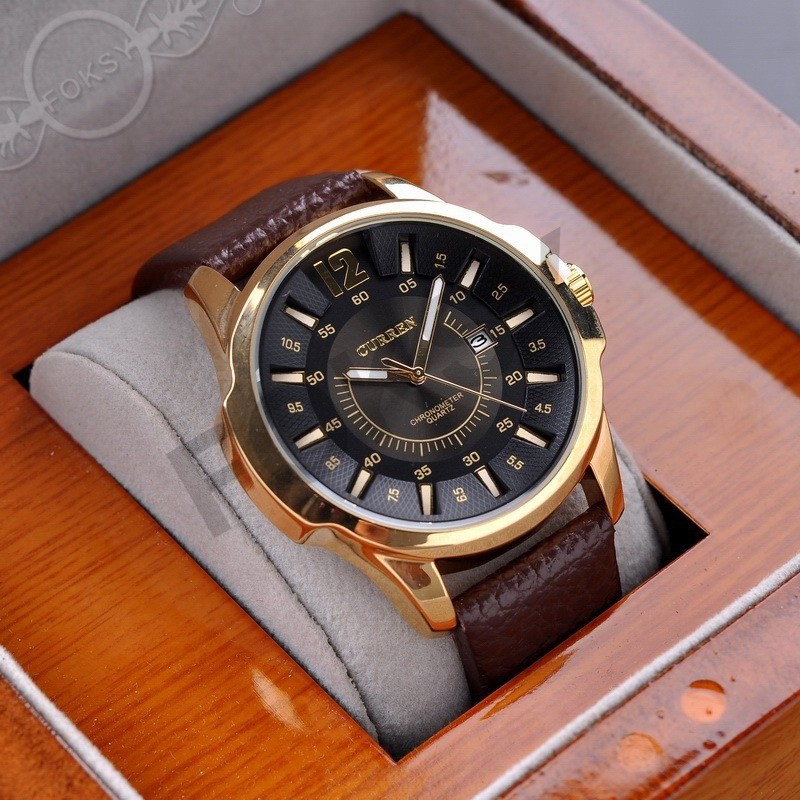 Its price is around € 10 and it has fantastic reviews. It is made of stainless steel and although it is waterproof, the sellers do not recommend showering or exercising with it.
Check out Curren's product catalog on AliExpress by clicking here.
Shark: Sports watches for € 30-50
Another brand that surprised me is Shark, which has also amassed a lot of sales on AliExpress. It's a brand with almost 20 years of history, but a few years ago it had its breakthrough when Western buyers became aware of it through platforms like AliExpress.
The sports watches look very good and as I can read in the forums and comments from buyers, they also prove themselves.
I'm leaving you unboxing a Shark watch in Spanish:
How to find Shark watches on AliExpress
For whatever reason, searching for "Shark" on AliExpress' s search engine does not produce good results. That's why you have the Timezone shop here, which has the largest selection of Shark watches on AliExpress. Even Shark's own official website recommends that you buy their products there.
Geneva Watches: Sounds Swiss until you see the price
Geneva: The models of this watch brand (Chinese and not Swiss, don't let the name mislead you) are among the bargains on AliExpress. You can buy a lovely watch for less than € 5. There are several different models that go away like hotcakes, and one successful model is: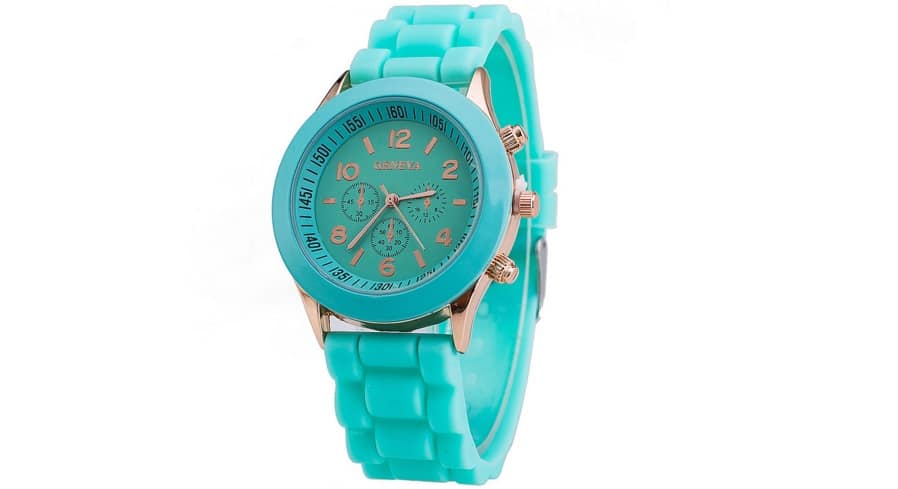 It is a simple model that is available in a variety of vibrant colors and has a very comfortable rubber strap. Here is a review of a Spanish woman:
Megir: Sophisticated looks for € 15-25
Megir is one of the brands whose watches can pass as a brand watch for men. However, they are very cheap compared to other branded watches that cost up to several hundred euros.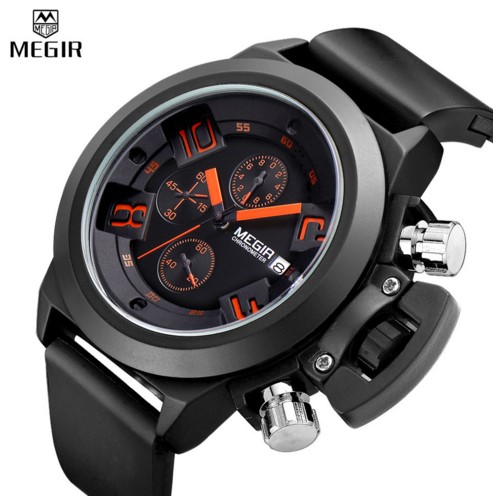 Megir watches have high-quality materials, quartz, hard glass from Hardlex, minute hands, are waterproof and can have numerous other properties, among which the comfortable bracelet and the adaptability to sports activities stand out.
There is a rating in English here:
Available on AliExpress from € 30.
Naviforce: Style Citizen Aviator for € 15
Naviforce is not a Chinese watch (it is Japanese) but it must also be included in this listing as it is one of the best-selling brands on AliExpress and a weakness for a passionate watch lover like me. I don't want to say much more at this point either, as my intentions have become clear. But just to give you an idea, I just want to tell you that I bought a Naviforce 9044 for 29 euros and I'm thrilled: I use it as a Citizen Aviator for home?
Here is an unboxing from another model from Naviforce:
Here you can see all Naviforce watches on AliExpress.
Feifan: Minimalist watches for € 4-6
Feifan's watches are completely unknown in Germany, but they are an interesting option if you are looking for minimalist and very affordable watches. The most typical watches cost around € 5 and have sold several thousand.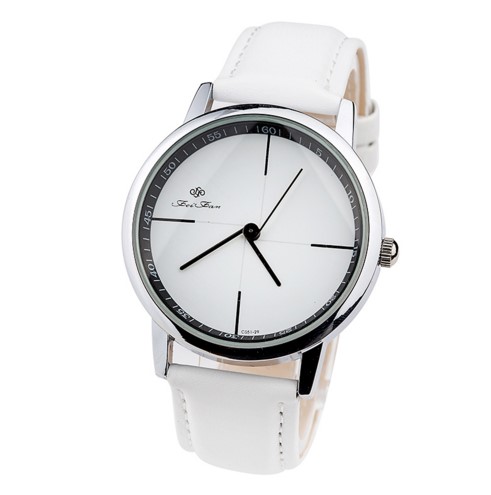 This Feifan model, which is also available in black, costs only 6 euros, for example. It could also be a brand watch, right? I personally like it very much?
Soki Watches: Inspired by Rolex Submariner and more
Soki: Affordable and Quality Watches? Definitely worth taking a look at Soki's watches. I definitely noticed them. This sporty style with class is almost irresistible. In the top 10 watches on AliExpress, there is a model with almost 13.00 sales.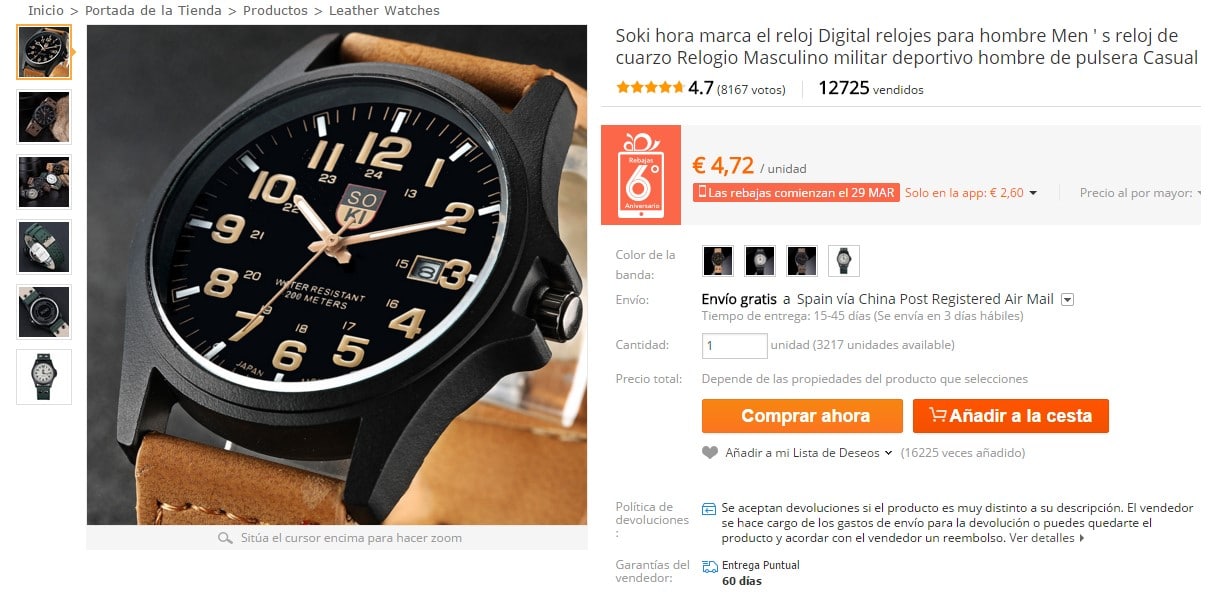 There is also a line that was without a doubt inspired by the Rolex Submariner: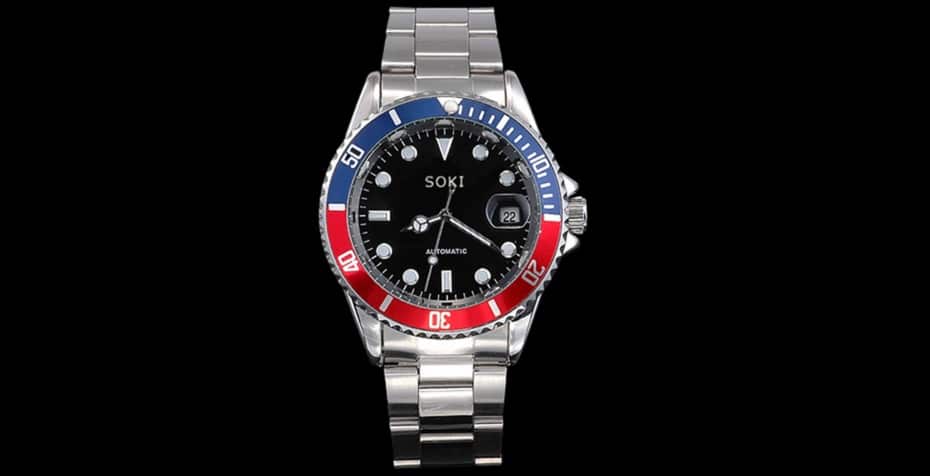 Although I'm personally happy that it now finds its own style.
You can see all of Soki's watches on AliExpress here.
Beinuo and Sinobi
Two other Chinese watch brands that you shouldn't forget are Beinuo and Sinobi. Here you can find a large selection of sporty and classic men's watches at a really low price. They are not spectacular, but they can adapt to what you are looking for.
Other very interesting emerging brands
Now that you know the top selling watch brands on AliExpress, we'll be showing the more that are becoming more popular and with very positive comments. We'll cover each brand briefly by explaining why we think they should be kept an eye on and what you can find on each brand.
Fashion watches
In this first part we are going to show you brands that offer watches for every taste that are in line with the latest fashions and are very reasonably priced.
Kimio: ladies' watches
The best-selling watches from this brand are the women's watches, which usually have a very small case, which makes them very discreet and perfectly suited to be paired with any look and for any occasion. I like them for their originality.
Here you can check out Kimio's watches on AliExpress.
Sinobi: Another Chinese watch brand known for their high quality women's watches
The style of Sinobi watches is very diverse: from classic ladies' watches with small cases to futuristic watches without hands that show the time. If you look around their shop, you won't be able to resist at least one watch, as there is something for every taste.

Here you can check out Sinobi's watches on AliExpress.
Julius: Simple lines
The specialty of this brand are the very classic and simple watches. They are perfect for any occasion as they go with any look. They also have a few good looking sporty watches.

Here you can check out Julius watches on AliExpress.
Kingsky: watches that go with the latest fashion trends
Here you can find watches that keep up with the latest fashion trends and that are inspired by famous models from famous brands such as Marc Jacobs, The Horse, Swarovski, Michael Kors, D&G, etc. Even if you have a few men's watches, most are women's watches.

Here you can check out Kingsky watches on AliExpress.
Longbo: Casual watches that are similar to Swatch's
As you can see, inspiration is the order of the day and Longbo watches resemble Swatch brand watches by combining a classic but casual style. Plus, the prices are also very competitive and the reviews from other buyers are excellent.

Here you can check out Longbo's watches on AliExpress.
Enmex: watches in a minimalist style
Do you like the minimalist watches? Then this is your brand. You won't find a single eye-catching print on their best-selling watches. All of their watches follow a monochromatic and classic style that is perfect for any occasion.

Here you can check out Enmex watches on AliExpress.
Dom: clocks with unique designs
Although the watches are a bit more expensive, we cannot avoid showing you this brand. Their watches are delightful and among the best-selling models we found some inspired by the Calvin Klein brand watches and other reimaginations of Daniel Wellington's watches with his famous nylon strap with stripes. They have a high-quality workmanship: bracelets made of leather, Hardlex glasses, bracelets made of scratch-resistant tungsten and some models have Citizen quartz control.

Here you can check out Dom's watches on AliExpress.
Oulm: Steampunk style similar to Diesel brand watches
The watches from the Oulm brand are sporty and are similar to the watches from the Diesel brand. Because of their reasonable price, they are ideal if you like the very modern watches with a large dial.

Here you can check out Oulm's watches on AliExpress.
Chenxi: watches inspired by well-known brands
If you are looking for a simple and combinable watch, I recommend you check out this brand. Their style reminds you of the style of brands like Lotus, Festina, Swatch, Nixon etc. For less than 10 euros you can own a watch with quartz control and stainless steel that is perfect for everyday use. They have men's and women's models, some with extremely high sales. So I recommend that you read the reviews. You will find real-life photos of other buyers that give the impression that they seem more expensive than they really are.

Here you can check out Chenxi's watches on AliExpress.
Wwoor: Classic watches at low prices
As you can see, there is a wide variety of watches to suit all tastes and colors. Due to their four-leaf clover, the watches from the Wwoor brand can be recognized very easily. The most popular watches are distinguished by their classic style and reasonable price. These are stainless steel watches with a resistance of 5AMT and Japanese control (they use the Seiko mechanism). There are both men's and women's watches, and besides the best-selling classic-style watches, you can also find other more modern and sporty men's watches.

Here you can check out Wwoor watches on AliExpress.
Break: Minimalist watches with a monochromatic touch
Although their business has not been around long on AliExpress, their modern and minimalist designs with a monochromatic touch have achieved that some of their watches have seen more than 1500 sales with excellent reviews. The price is very good when you consider all its features: Japanese quartz control, waterproof, Hardlex glass and aluminum housing, all for only 20 euros. We are sure that we will hear more and more of the brand on AliExpress.

Check out Break's watches on AliExpress here.
Ouyawei: Classic men's and women's watches
This brand is also one of my favorites. The watches have a classic style with designs for both men and women. In addition, they are supplied in boxes and the displays are not decorative but also work. They have a high quality finish with leather bracelets or high quality control mechanisms.

Here you can check out Ouyawei's watches on AliExpress.
Sporty watches
As we know, we don't all have the same taste. In this section we have summarized the brands that offer sporty watches. In reality, most manufacturers offer models at very reasonable prices that are inspired by the Casio brand (without the logo, of course).
Skmei: They are similar to G-shock's clocks
Although they also have a line of steel watches, the sporty watches, which are similar to G-shock watches, are among the best-selling watches from the SKMEI brand. They have men's, women's and children's models. If you are a fan of Casio watches, I recommend checking out the shop. You will also find some models inspired by the brand's vintage watches.

Here you can check out Skmei watches on AliExpress.
Ohsen: Inspired by the design of Casio watches
In addition to the watches inspired by the famous Casio brand, Ohsen also has other military-style models that go perfectly with a more formal look, as well as other watches similar to those from the Shark brand that we told you about earlier. However, the price is less than 20 euros. Also, it offers digital models for children that are very fun and practical.

Here you can check out Ohsen's watches on AliExpress.
Ezon: multifunctional watches for athletes
Ezon's clocks are not just any digital clocks. These are multifunctional watches that are specially designed for athletes. They have bluetooth, a pedometer, an exercise monitor, a long-life battery, and they're waterproof. It is a great option for the athlete.

Here you can check out Ezon's watches on AliExpress.
High quality watches
In this section we will show you high quality watches, where we will see a workmanship and quality that we have not seen before. The price will undoubtedly go up a bit, but the price-performance ratio is very good and if you are passionate about watches, it is worth keeping them in mind.
Guanqin: Top quality at a very affordable price
Guanqin is a brand that is famous for performing very demanding quality controls on their watches. You will find some very cheap watches, for less than 20 euros, with similar characteristics to the watches we have already shown you. But we can also find some models with a tourbillon control and very high quality workmanship in their wide product catalog, which is why we have listed them in this category. The price is pretty good, around 60 euros.
There are also a few sporty watches made of steel with a sapphire crystal and generally they offer all kinds of watches: made of tungsten, ceramic, automatic watches with Swiss controls, etc. If you are looking for a watch with a good mechanism and a long service life, we recommend you definitely take a look at his store. The price is a little higher, but it is a proven quality. You can even find some of his watches in many online stores in Spain.

Here you can check out Guanqin's watches on AliExpress.
Parnis: Well-known Chinese brand
Parnis is well known among internet watch enthusiasts and if you look at their models you will know why: their models are inspired by prestigious brands. But not only are they beautifully designed, they also have good components, as you can attest to some parts of the watch, such as its case or glass.

Here you can check out Parnis watches on AliExpress.
Holuns: timeless classic design
Holuns is one of my favorite watch brands on AliExpress: they have a reasonable price, a very nice classic and timeless design and high quality components: automatic control or quartz control, sapphire crystal, 18k gold ornaments, etc. It is worth checking out their store, there are very many interesting models at good prices.

Here you can check out Holuns watches on AliExpress.
Binkada: Technology at a very reasonable price
Are you looking for a watch with sapphire crystal and automatic controls for less than 60 euros? Then Binkada is your brand. There are very pretty models in classic style for women and men with different finishes and bracelets made of stainless steel or leather, and at an excellent price.

Here you can check out Binkada's watches on AliExpress.
Casima: high quality sporty watches
Casima is a brand with quite a lot of visits on AliExpress and they offer high quality sporty watches with modern and attractive designs, although they also have high quality classic watches. In their shop, you can find waterproof watches with chronographs and Japanese quartz controls. For less than 100 euros, some models also include automatic controls and sapphire crystal.

Here you can check out Casima watches on AliExpress.
Pagani design: high quality Chinese watches
Finally we will tell you about Pagani Design. Their watches are characterized by beautiful designs in a sporty style, Japanese Miyota quartz controls, and a fairly reasonable price.

Here you can check out Pagani design watches on AliExpress.
And the quality of the Chinese watch brands?
In general, all of these brands are decent and considered good manufacturers of high quality custom watches and imitations. Due to the fact that they can save production and brokerage costs, they can offer the products cheaper. The Chinese market is expanding and these Chinese watch brands are snapping up more and more of the competition due to the mostly similar products being used.
Of course you don't buy a Michael Kors or Armani, but these models are not incompatible. You can add them, give them away ...
Remember that Lemfo smartwatches are very popular and have very good prices on AliExpress. Finally, don't forget to buy from a seller with a good reputation, a high number of sales and positive opinions and comments from buyers.
Did the article help you? Do you know another outstanding brand? Are you betraying us?
View the watches on AliExpress here.