Were the ancient Greeks really gay?
Homosexuality in Literature: Ancient Gay Life Today
Homo plots in Greek myths are a minor trend in contemporary literature. Why, and what exactly is being negotiated there?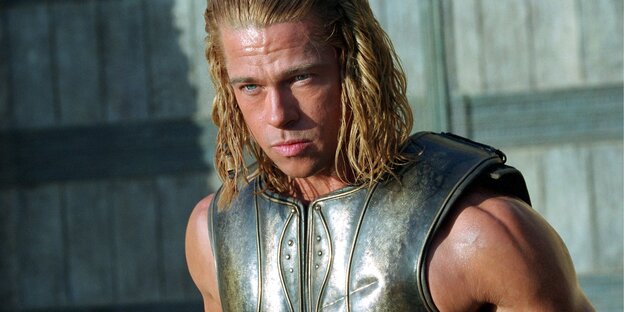 In the blockbuster "Troja" (2004) Brad Pitt played the falsely straight Achilles Photo: Warner / dpa
Why the ancient Greeks at all? Do you have to put their songs in the microwave again in the present? Are there no more pressing stories? And yet even with Ocean Vuong, 31, in his second poem in the volume "Night sky with exit wounds" (Ger. 2020), the young Telemachos pulls his father, presumably Odysseus, out of the sea.
It's not as if Vuong, who was born in Vietnam and writes about queerness, migration, racism, and classicism in the USA at the turn of the millennium, had no other topics in store than old Homer. And yet Vuong falls back on ancient staff at this point - also to question images of men and how they were shaped by wars and their narratives. Vuong then also reflects on being man and gay in the present.
In the last twelve months, three more prominent novels have been (re-) published in German translation, which write a gay love story into an ancient Greek myth - or at least force the ancient latent gay plot: The Canadian Anne Carson, who has been rightly for years for the Nobel Prize is traded, tells in the two very associative-lyrical verses "Rot" (German 2019) about a red being named Geryon.
In the original myth, Geryon is murdered by the warrior Hercules because of his fancy herd of cattle; at Anne Carson, the two, apparently soulmates, become temporary lovers who live in the present, or rather a more magical version of it. Definitely worth reading!
Clytaimnestra and Elektra
The Irish author Colm Tóibín, on the other hand, tells the ancient Oresty chapter by chapter in the "House of Names" (German 2020) from the perspective of women: Clytaimnestra and Elektra. And he treats his youthful Orestes to a love affair with Leandros, never mentioned by the ancient authors. Tóibin gives her a surprising amount of space in the midst of his blood-drenched anti-war novel. The fragile idyll contrasts sharply with the brutal roles that both initially fill out there in the war, but ultimately leave them behind.
The American author Madeline Miller, born in 1978, actually had to invent less daring inventions in her debut novel "Das Lied des Achilles" than Carson and Tóibín, because the gay love of Achilles and Patroclus is suggested in Homer's "Iliad" and already by ancient authors like Plato and Aeschylus set as safe - even if in Wolfgang Petersen's "Troy" film adaptation (2004), which looks like a prototype of "Game of Thrones" from today's perspective, nothing of it was to be seen, but on the contrary, Brad Pitt as Achilles has a wife in bed right in the first scene and Patroclus is just the cousin. Who believes it!
Madeline Miller, who studied Greek and Latin at the renowned Brown University in Rhode Island, tells about Achilles, but entirely from the point of view of his lover Patroclus. The American original was a 2011 New York TimesBestseller, even quickly published in German translation by Bloomsbury, albeit quite under the radar. After Miller's classic modernization "Ich bin Circe" in 2019 received more attention in this country and was praised for its feminist perspective, Eisele Verlag brought out the Achill novel 2020 again.
Achilles and Patroclus
Miller's strategy has its charm, it begins many years before the Trojan War, when the young princes Achilles and Patroclus get to know and love each other, whereby Miller describes the attraction quite physically and sometimes just barely misses the soft porn. But at least: gay desire is still far too rare in the "Troy" film and elsewhere in Hollywood pictures and in mainstream pop culture.
Even in the "Call Me By Your Name" film, the camera pans discreetly towards the peach garden (unlike in the original book) when Elio and Oliver sleep together. Miller's Achill is enthusiastic about making music on the lyre - and Patroclus is enthusiastic about the art of healing. And both for each other anyway. Miller also gives a lot of contour to the female figures (especially Achill's mother Thetis). Ultimately, however, Achill does not become a murder machine with Miller, but a warrior, even if Patroclus strongly doubts the old kitsch conventions of honor and heroism and tries to influence Achill in a peaceful manner.
Madeline Miller, "Das Lied des Achill", translated from English by Michael Windgassen, Eisele Verlag Munich, 2020, 14.99 euros
As a pacifist one is not happy with the pathetic, heroic style to which Miller then succumbs in places. Here Miller runs the risk of portraying her gay Achilles as an extra tough Mackerkrieger. Incidentally, a questionable fashion and method that Didier Eribon observed critically in the "Considerations on the Gay Question" (2019) in graecophile homo literary circles of the 19th century, when the Greek warrior spirit and its homoeroticism are brought up to avoid any suspicion of To stifle "effeminacy" and supposedly "ennoble" the gayness of the present.
Madeline Miller should be credited with the fact that her novel is misleading about labels - and the multi-faceted first-person narrator Patroklos is actually the more exciting character than the eponymous warrior.