What should every Singaporean know
—– Here you will find information about vacation and travel, vacation and leisure in Singapore –—
Traveling in Singapore · Brief information
You should know that ...
... if you are planning a trip to Singapore.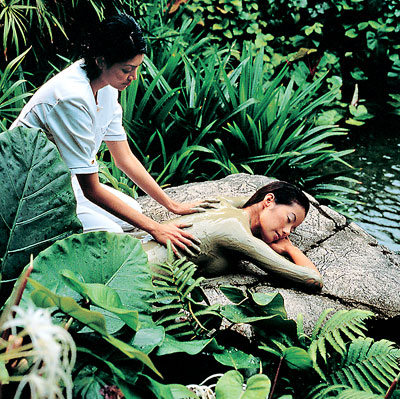 Mud massage
Singapore's location: At the southern tip of the Malay Peninsula, connected to Malaysia by two long bridges.
Geography: 704 sq km. From east to west 42 km, from north to south 22 km. (Smaller than Hamburg!) 4.6 million inhabitants, 75% of them Chinese.
Climate: Hot and humid tropical climate. Average temperature 24 to 32 degrees, at night 19 degrees. From November to January monsoon rainy season with short, warm showers.
Religion: Buddhist 51%, Christian 15%.
Language: English, Malay, Chinese, Tamil.
Currency: Singapore dollar. 1 SGD about 0.50 euros.
Entry: Passport. No visa required for Germans, duration of stay 30 days.
Means of transport: 12,000 taxis, plus buses and metro.
Accommodation: Over 70 hotels of all categories, mostly centrally located.
Customs regulations: Do not bring any tobacco products into the country! A pack of 20 cigarettes costs around 6 euros in Singapore, and each cigarette must have a customs stamp. Cigarettes without customs stamp: 250 euros fine.
Other regulations: Eating, drinking and smoking on public transport is dearly punished. Malicious behavior by men towards women can result in imprisonment or flogging. Throwing rubbish (including cigarette butts) on the street costs a lot of punishment.
More information:
Singapore Tourism Board
Hochstrasse 35-37
60313 Frankfurt
Tel 069 - 92 07 70 0
Fax 069 - 29 78 92 2
www.singapore.com
Travel with travel advice
Travel in Singapore | Overview | History III | Islands
Districts | Worth visiting | plants and animals
Gastronomy III | Shopping IIIIIIIVVVI
Brief information
---
---