41 things to do to cheer yourself up when you're having a bad day
We all have our bad days, even the happiest people.
There are days when things just don't go the way you hoped, when you have a problem with others that is more of a burden to you than you would like, and sometimes you are in a bad mood for no reason.
Whatever the reason, sometimes you just have a bad day.
Believe me, even as a coach and writer who helps people live a fuller and happier life, they have bad days.
It can quickly happen that you sink into self-pity, get yourself a bucket of chocolate ice cream and then want to spend the rest of the day watching Netflix.
Don't get me wrong, lazy days like this are important to our mental health, but shouldn't become the standard.
And it should certainly not be an answer to bad days.
That's why in this article I want to tell you 41 things that you can do to cheer yourself up when you're having a bad day and not feeling well.
…
Make a note of this article on Pinterest so that you can find it quickly whenever you have a bad day.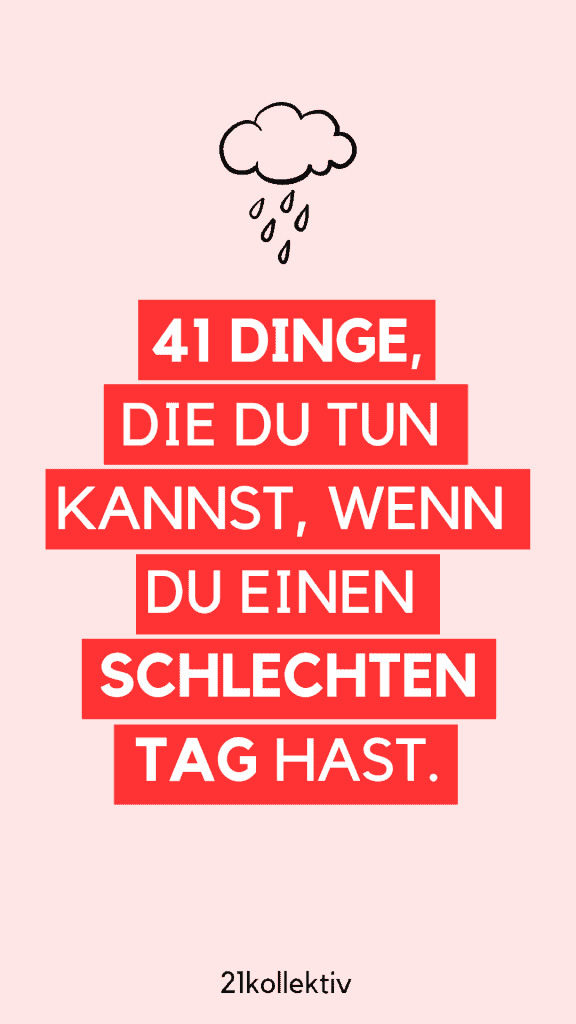 1. Listen to a positive podcast (or audiobook).
2. Do something simple but productive.
3. Practice gratitude.
4. Spend some time outside.
5. Meditate for a few minutes.
6. Go take a shower.
7. Spend time with your children or pets - borrowing is also possible!
8. Take a little nap.
9. Find out what is causing your bad day.
10. Spoil yourself.
11. Read a book.
12. Change your environment.
13. Write down your thoughts and feelings.
14. Let it all out - cry or throw up at a friend's house- and go on.
15. Call a loved one.
16. Buy a small gift for yourself, such as flowers or a candle.
17. Turn up the music and dance around your apartment.
18. Listen to your favorite playlist.
19. Drink your favorite drink that you treat yourself far too infrequently.
20. Spend time doing your favorite hobby.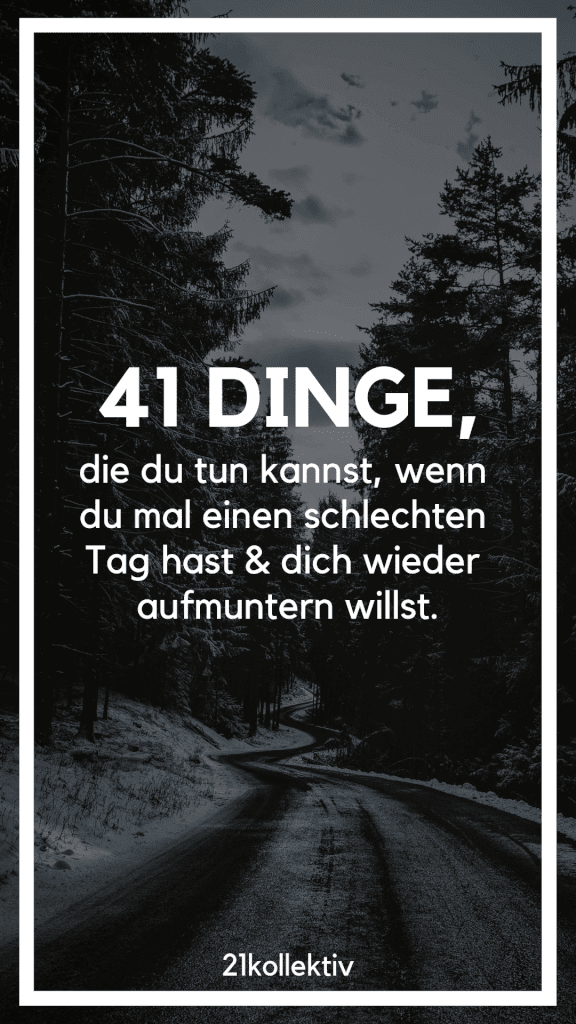 21. Get some exercise, be it exercising in the gym or just walking around the block.
22. Look at a funny video or nice pictures.
23. Distance yourself from negative people.
24. Do something good for another person.
25. Do something that brings you closer to one of your goals.
26. Grab a piece of paper and something nice.
27. Read through some funny sayings.
28. Eat a piece of chocolate.
29. Light a candle.
30. Clean up your apartment or room.
31. Make a collage of beautiful things.
32. Learn something new, such as this method of blocking stupid sayings.
33. Get away from the digital world and social media.
34. Recite positive affirmations.
35. Take a ride on a bike or your car.
36. Stand in front of the mirror and force yourself to grin for 60 seconds.
37. Do your hair, make-up, and wear something great even if you don't go anywhere.
38. Plan to do something fun in the next few days - alone or with friends.
39. Read this article: If you are not feeling well, think these 10 things to yourself
40. Write down how you plan to spend the rest of your day.
41. Smile and be patient. Tomorrow is a new day!
I hope this list can help you feel better again when you have a bad day!
Tell me in the comments section below what you do if your day doesn't go quite as hoped! I look forward to your suggestions and ideas!
…
Make a note of this list on Pinterest!