Why do Americans like to own guns?
US citizens are buying more firearms
It is not armies and security forces that own most of the small arms, but private individuals: 85 percent of all small arms in circulation - above all rifles and pistols - were in private hands at the end of 2017, a total of around 857 million. According to this, the number of privately owned weapons has increased by 207 million in the past ten years.
In contrast, 156 million weapons are in the possession of armies, the police or security forces. This emerges from the new "Small Arms Survery" that a team of scientists in Geneva has created. Data from 230 countries were included in the study, which was last published in 2015. The research is funded by a number of European governments, the USA, Canada and several UN organizations.
Record holder USA
Most small arms are owned by the citizens of the United States: There are 120 firearms for every 100 inhabitants. Although the United States makes up only four percent of the world's population, 40 percent of all small arms are privately owned, a total of 393 million. The authors of the study find that the United States is making a significant contribution to the global increase in privately owned weapons. For example, private individuals purchased 122 million new firearms in the United States between 2006 and 2017.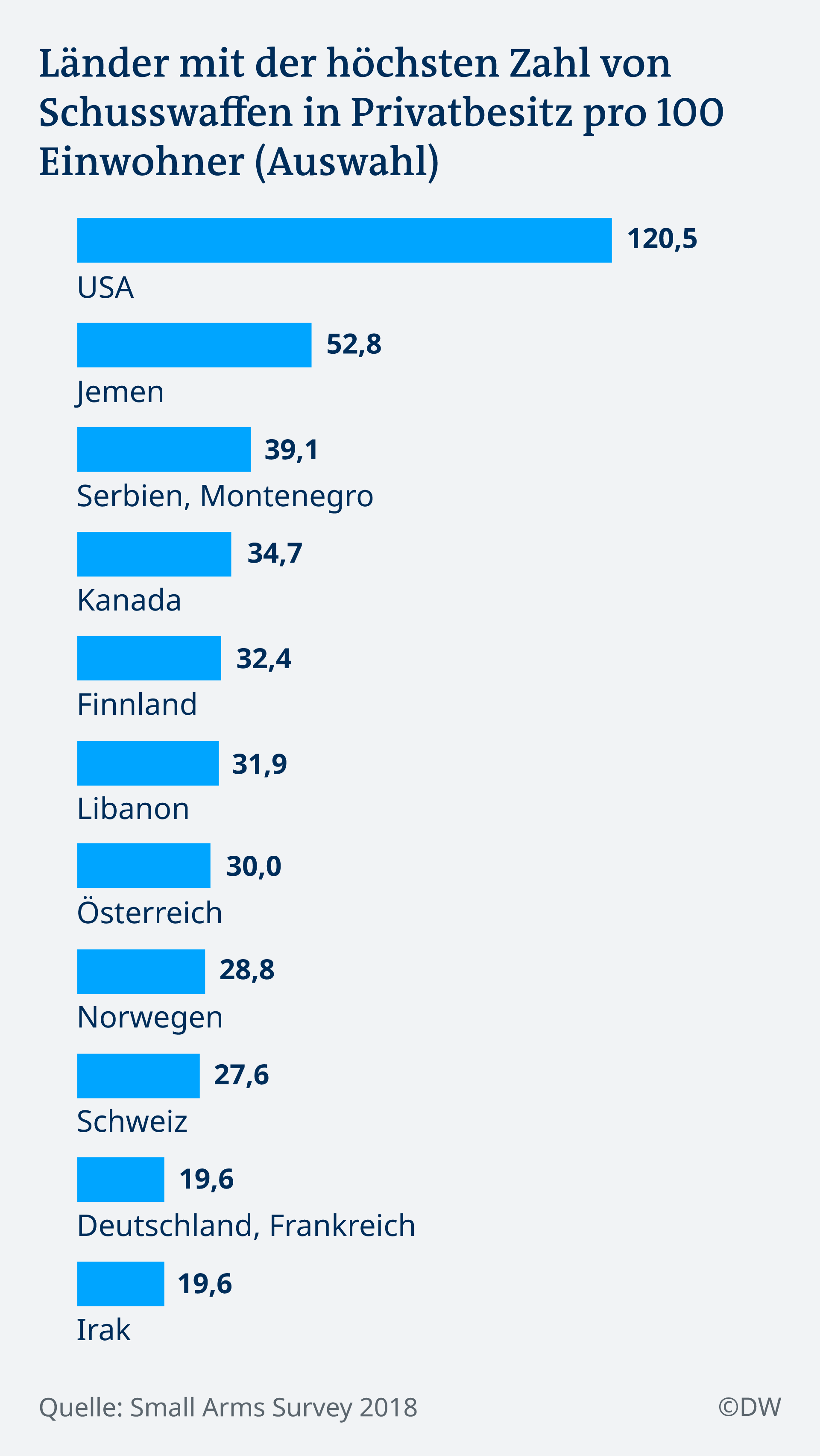 The downside of the flourishing arms business: According to surveys by the "Gun Violence Archive", more than 15,600 people in the United States were killed by gun violence in 2017. Only in February did the massacre at a school in Parkland, Florida lead to a wave of protests against the free sale of firearms, especially semi-automatic ones.
16 million weapons in Germany
In the Federal Republic of Germany an average of 20 out of 100 inhabitants own a weapon. There are a total of 16 million small arms in Germany - that is the second highest number in Europe. Only in Russia, with around 17,600,000 more guns, are privately owned. In Asia India leads the statistics of private gun owners, in Africa it is Nigeria. There are particularly few small arms in Indonesia, Japan and Malawi - there is less than one weapon for every 100 inhabitants.