Why are cigarettes and alcohol legal drugs
Most addicts use legal drugs
About one in seven people in Germany is dependent on at least one drug. In most cases it is alcohol, tobacco, or medication.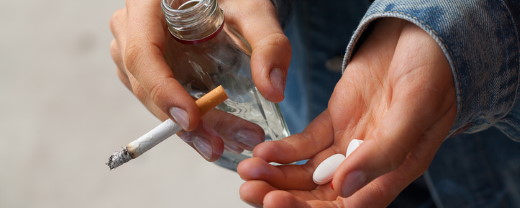 Image: KatarzynaBialasiewicz / istockphoto.com
"In industrialized countries, almost every second act of violence is committed under the influence of alcohol," warn Andreas Heinz and Shuyan Liu from the Charité Clinic for Psychiatry and Psychotherapy in Berlin. In their editorial on currently published figures on drug consumption in Germany, they make it clear that legally available drugs represent significant risk factors for public health. The numbers were presented in two articles by researchers from the Munich Institute for Therapy Research (IFT).
Tobacco plays the biggest role in addiction
Since 1995, drug consumption in the adult population has been examined roughly every three years as part of a representative study, the Epidemiological Addiction Survey. Tobacco has been at the forefront of addiction disorders since the surveys began. Although tobacco smoking has decreased over the years, cigarettes are still responsible for most addictive disorders and consequential damages.
14.4 million men and women smoke at least now and then. That's 28 percent of the population. Almost eight million people use cigarettes every day. Tobacco addiction is found in 9 percent of the adult population. According to estimates by the German Central Office for Addiction Issues, 121,000 people die prematurely in Germany every year as a result of smoking.
Too few alcohol addicts seek help
There is also a downward trend in alcohol consumption, but currently 1.6 million Germans are still considered to be alcohol-dependent. In an international comparison, Germany ranks among the high-consumption countries, which the authors of the study attribute primarily to the easy availability of alcohol. Another problem is that only 16 percent of people with alcohol addiction seek the help of a counseling center or clinic to stop or reduce their alcohol consumption.
Pain reliever dependence on the same level as alcohol dependence
Figures on drug dependency also point to a huge problem in Germany. Although sedatives and sleeping pills tend to be used less, there is an upward trend for painkillers. Around 1.6 million people are currently considered dependent on pain medication.
According to analyzes by the research team, the increasing trend in pain medication consumption is not due to opioid pain medication, as is the case in the USA. Rather, other prescription and over-the-counter pain relievers such as acetaminophen would contribute to the increase. Improper use of painkillers can cause drug-related headaches that lead to the use of other painkillers.
Increasing trend in cannabis use
There is an increasing trend in the use of cannabis among illicit drugs. Currently 3.7 million people, or 7 percent of the adult population, have used cannabis at least once in the past 12 months. In 1995, an estimated 5 percent of men had used cannabis; in 2018 it was 10 percent. In the case of women, an increase from 2 to 6 percent was recorded over the same period.
However, only less than one percent of the population is addicted to cannabis. It is estimated that 309,000 people are affected. Other illegal drugs play an even smaller role. It is estimated that 103,000 people are dependent on amphetamines and 41,000 are dependent on cocaine.
A total of 14 percent of the population have at least one addiction disorder. According to Heinz and Liu, more research and prevention are necessary, especially on the subject of drug addiction.
Swell:
Atzendorf, J., Rauschert, C, Seitz, N.-N., Lochbühler, K. & Kraus, L. (2019). Use of alcohol, tobacco, illegal drugs and medication. Deutsches Ärzteblatt, 116 (35), 577-584.
Heinz, A. & Liu, S. (2019). Addictions in Germany. Deutsches Ärzteblatt, 116 (35-36), 575-576.
Rummel, C., Lehner, B. & Kepp, J. (2019). Data, numbers and facts. In German headquarters for addiction issues e. V. (Ed.), Yearbook Addiction 2019 (pp. 11-35). Lengerich: Pabst Science Publishers.
Seitz, N.-N., Lochbühler, K., Atzendorf, J., Rauschert, C., Pfeiffer-Gerschel, T. & Kraus, L. (2019). Trends in substance use and substance-related disorders. Deutsches Ärzteblatt, 116 (35-36), 585-591.