How do the Vietnamese see the Chinese
China's bought brides from Vietnam
Sapa is a small town in the northern highlands of Vietnam near the Chinese border. The idyllic mountain landscape and the green rice terraces have made the place an internationally known tourist hotspot. Particularly popular: the mountain minority people who live in the surrounding villages. The women from the Hmong people with their friendly smiles and colorful traditional costumes are not missing in any photo.
But behind this picturesque mountain backdrop there is an abyss. Young women disappear here. Again and again. In every mountain village around Sapa, the mothers, cousins, sisters and neighbors tell the same story: the girls are gone. In China.
China's Politics and the Consequences for Neighbors
There is a blatant shortage of women in China. The one-child policy, introduced in 1979, according to which a couple can only have one child, and the couples' desire to have a son as ancestor, have resulted in large-scale abortions of female fetuses. Experts estimate that China will have a surplus of 30 to 40 million men of marriageable age in 2020.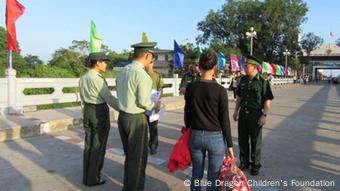 A victim of human trafficking is waiting at the Sino-Vietnamese border to be allowed to return
Although the one-child policy was officially ended at the end of October 2015, couples are now allowed to have two children, but the problem will persist for years: quite a few Chinese men cannot find a wife. Especially those who have little money have poor chances on the marriage market. As a result, human trafficking and the forced marriage business are flourishing. From Vietnam, but also from other neighboring countries.
A sign of life after years
There are no reliable figures from Vietnam. "We know that women are being abducted from all regions of Vietnam and believe that a significant number of cases are still going unreported," said Michael Brosowski, founder of the Blue Dragon Children's Foundation in Hanoi. The organization has so far helped more than 260 kidnapped young women to escape or return home, which are often dangerous and difficult. These are women who often only succeeded after years in sending a sign of life from China to families in Vietnam via the Internet or mobile phone.
When they return home, many women initially tell the same story: they were drugged and woke up again in China. But the truth is different, says Brosowski. As a rule, the kidnappers are not strangers, but people from their own people. "We know that most kidnappers build a relationship of trust with the victims carefully and over a long period of time." Because the victims often blame themselves, they don't want to admit it. This is precisely what makes prevention so difficult.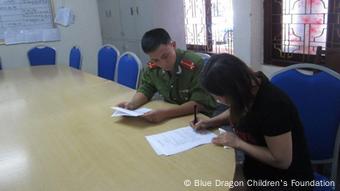 A woman signs a police report. But only a few cases are reported at all.
Love as a lure
There are two typical scenarios: Either the kidnappers promise the women a job in China. An attractive offer for women who struggle for their livelihood every day. Or the men pretend to be charming admirers willing to marry. Brosowski knows of a case in which a young man entered into a relationship with a girl in Vietnam for over twelve months and got to know the whole family before he abducted the girl across the border into China. There the kidnapped women are taken to criminal "matchmakers".
In Sapa, Chan, a 22-year-old trekking guide from the Hmong people, describes the ubiquity of danger: "We hardly know who to trust. Even before I got married, people had told me to take care of your fiancé not sold to China. "
The young women in the villages around Sapa are easy victims, don't know much about the world and have never been to a city, says Chan. "They gain trust all too quickly when someone is nice. Especially those who see little prospect in their life - either because they have no hope of a sufficient income or because they think no one wants to marry them."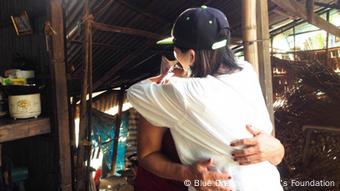 Finally reunited. But not all families take their lost daughters so warmly.
Dangerous tradition
Although it sometimes affects wealthier women with a good education, says Brosowski, poverty and remote areas are clear factors of the risk. In addition, in remote areas it is more difficult for the families of the abductees to get help or to report to the police. The kidnappers knew that too.
An old, partly still practiced ritual by ethnic minorities, in which young men "kidnap" their loved ones and keep them at home for three days before asking their parents for their hand, sometimes leads to the families first react far too late if the daughter does not come home. Brosowski from Vietnam is not yet aware of the fact that parents become perpetrators themselves and sell their own daughters.
Difficult return
For those who managed to escape, the trauma is far from over when they return home. In some cases, they are lovingly welcomed back by their families. But even in these cases, Blue Dragon often provides long follow-up care and therapy. Not only for the women, but also for the parents of the returnees. Many of the abductees were left idle for a long time in China and were never allowed to leave the house, says Dinh Thi Minh Chau, a psychologist at Blue Dragon. "They don't know what to do with their freedom. We also explain to the parents why the returnees suffer from insomnia and how they can cope better with the situation."
But reintegration into the family does not always work, especially in small villages. The women are stigmatized, there is talk and little opportunity to retreat, says Chau. Some of the women therefore come to Hanoi, where they live in shared apartments. Women who lived there lived a similar fate. You will also receive support in looking for vocational training or school so that you can build your own future despite everything.