How liked the product management at Uber
What to do when you're the company's first product manager?
If you are the first product manager in the company ...
... or if you are currently introducing the product management function in your company, you are faced with quite complex challenges.
The new role or department has to find its place in the company. You need to make it clear to the other departments what the value and responsibilities are in product management. You will probably have to transfer decision-making powers to product management from other departments.
Approaching these tasks properly is hard work and involves a lot of internal discussion ... but there are different approaches to properly addressing the challenges.
What makes this endeavor so difficult?
There are a number of reasons why it is so difficult to set up product management, but these three key issues are often addressed:
1. An unclear description of the role and function
2. Coordination with other departments and functions
3. The lack of tools, processes and adequate instruction or training
1. Clarity in the role description
The problems with role definition are due to the lack of a uniform standard for the responsibilities of product management. Every company interprets the role differently. Sometimes these differences even exist within different product management departments of larger companies. As a result, there are different opinions on what to expect from product management.
A fundamental question is whether the role is more operational, whether it acts strategically, or whether it is a mixture of both directions. Some product managers are busy putting out fires and answering short-term, tactical questions. In other companies, product management takes on a leadership role, setting the direction and prioritizing and coordinating the necessary activities in order to implement the agreed product strategy.
As you can see in the graphic at the beginning of the text, it is our view that product managers are most valuable and influential to the company when they assume this leadership role (like a mini managing director for the product). Nonetheless, many product managers find themselves in the role of janitor - the one who takes care of anything in the company when something goes wrong and needs to be fixed.
At the beginning the role is located in this area to get things done for which no time or patience can be found on the management level. Sooner or later, however, real value can only arise for the company if the product manager also assumes strategic responsibilities.
Product activity framework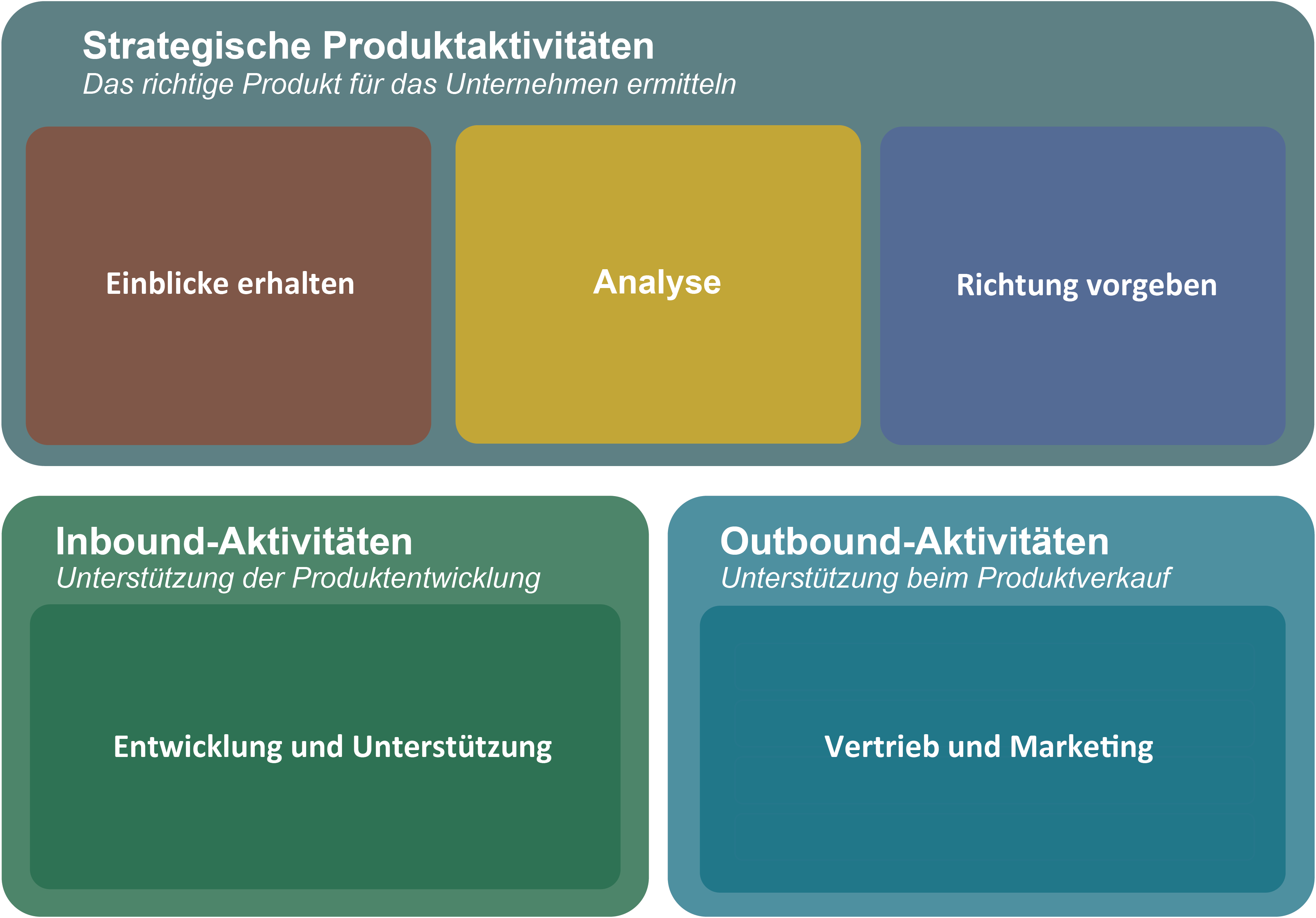 A very useful tool for defining responsibilities is our Product Activity Framework. You can download it from our website here. It helps determine who is responsible for which topics.
The graphic on the right shows the five major areas of activity: Get Insights, Analyze, Provide Direction, Development and Support, and Sales and Marketing Activities. These blocks are also broken down into 20 detailed product activities, which are either strategic or more tactical in nature.
We think that product management should at least develop and be responsible for the roadmap, but there are 19 other comprehensive activities that must be covered in every company that sells products. It must therefore be decided who will take on these activities on a permanent basis. It is rather unusual for everything to be the responsibility of product management.
Even when decisions have been made about this, it can be difficult to coordinate them with the other departments.
2. Coordination in the company
Getting the company to support product management is no easy task. It requires management support and a clear presentation of the benefits of product management for the company.
Companies have different ways of looking at the product management function, and we've seen a lot of different approaches. At one end of the scale, product managers are only used for operational issues related to the products; on the other hand, there are product managers who work closely with management to develop business strategies in their product area.
We believe that product managers need to take this leadership role in order to deliver sustainable benefits to the company. You accept responsibility for the success of your product and determine which are the most promising options for action for the product and how the resources are best used.
Of course, sometimes they have to "lend a hand" to ensure that things are implemented according to plan. We recommend, however, that the role should be more about making sure the right things are done rather than spending the time doing everything on their own.
Establishing this leadership role in the company also means that other parts of the organization have to give up their decision-making powers. As you can imagine, it doesn't really make you popular. I remember talking to a technical manager at a company that was about to introduce product management. He gave his full support on the condition that it was his "Does not undermine authority in product decisions". His expectation was clear that product management would work more on operational issues and that decisions would continue to be made elsewhere.
A balanced perspective
In order to exude credibility at all times, it is important that product managers have a balanced perspective on the various aspects of their product - commercial, technical, operational, etc. This enables them to make the objectively best decisions or recommendations for the company.
Product management must play a key role in how the company can be more profitable. To do this, it must take on a leading role that works closely with all areas of the company.
3. Tools, processes and training
After discussing how to address the challenges of aligning the responsibility and role of product management, let's next look at what tools product managers should be equipped with. You need the right tools, processes and training to be effective product managers.
Aids
Product Focus conducts an annual survey in which product managers across Europe are asked about various aspects of their work. In the last 3 years we have also asked which aids and software tools are used for market analysis, planning and roadmaps. The Microsoft Office products are still at the forefront (Excel, PowerPoint, etc.), but other online tools that are specifically aimed at product managers are becoming more and more popular. The current edition of the survey report can be found here (in English).
There are numerous checklists and templates that product managers can use when they are part of a new product management unit. Content from our journals can provide helpful impetus here.
Processes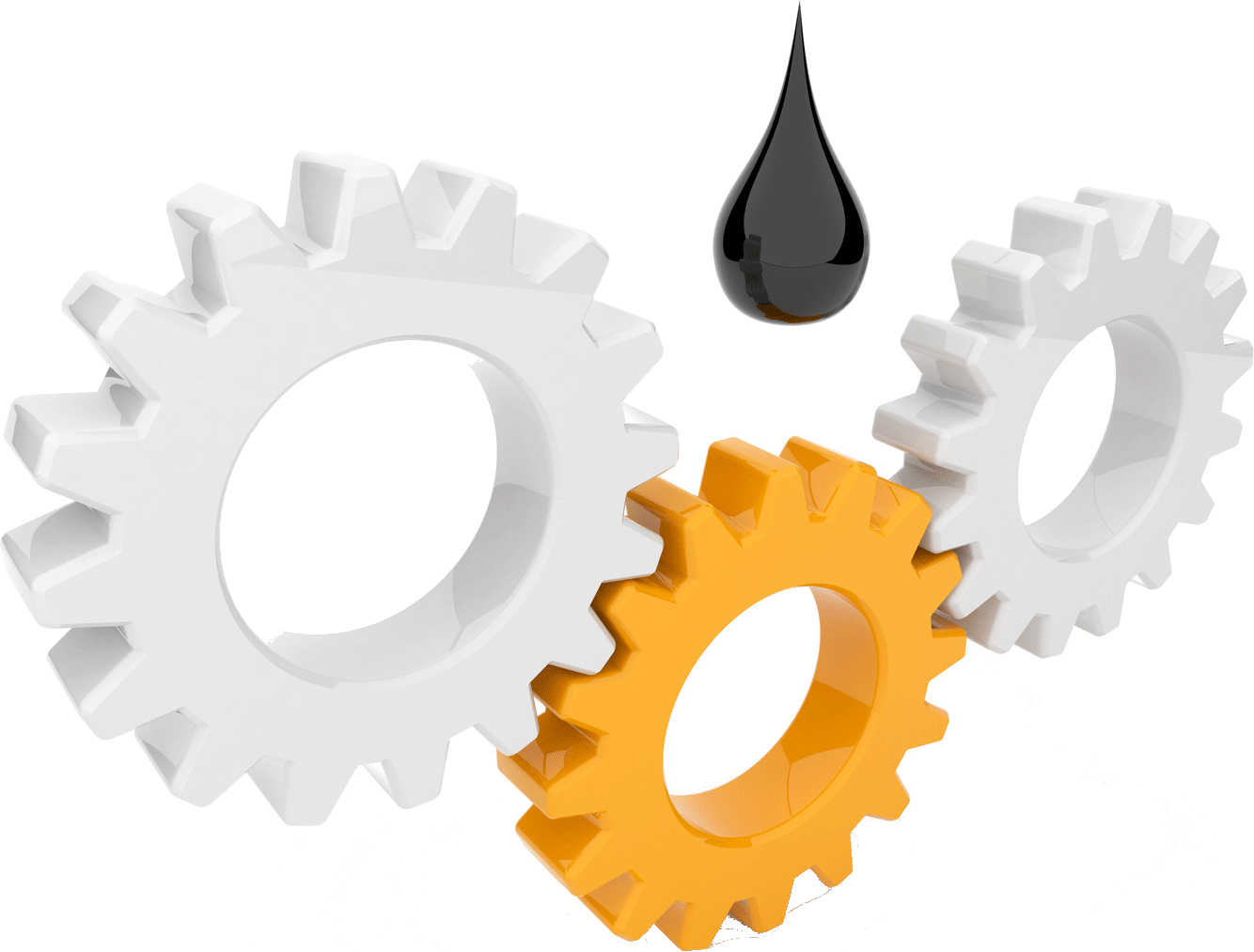 The basis for the successful development and marketing of products are clear and well-coordinated processes. There is not one ideal process that works for all forms of organization, but our regular assessments of our customers have given us insights that show which processes work best for which companies.
These assessments create a clear roadmap for introducing (or optimizing) the product management function. In each of these assessments we use interview techniques and a number of our own tools to get the insights that are needed. One of these tools - the Product Management Lifecycle - is available as a free infographic on our website.
Tools like this can be used to discuss the internal process for product management and control. It can help with the definition of elementary aspects (e.g. "Who is involved in the decision-making process to invest in a product?", "What information and documents are necessary?", "Who is responsible at which point in the life cycle?").
Training & introduction
Product management plays a prominent role in the company, and a new product manager in particular is under observation and pressure to prove that he is of benefit to the company. The best way to ensure that product managers pick up speed quickly is to properly introduce them to the role. In companies with existing product management, you usually work with a mentor (ideally an experienced product manager) who instructs the newcomer in the processes, tools, structures and standards.
In companies without existing structures for this product function, it is advisable to use external support.
Product Focus is the leading provider of product management training in Europe, so we (unsurprisingly) recommend that you consider our public courses or on-site training. Both regularly receive top marks from the participants and are suitable for both new and more experienced product managers, product marketing managers and product owners. They provide a quick and effective entry into the role and enable the introduction of best practices and procedures. Our customers regularly confirm that they can use our tools in practice in a short period of time.
Conclusion
Product management is often introduced in the company when small companies become medium-sized companies, or when large companies want to introduce more effective structures. They know that the economies of scale of product-focused companies - develop once and sell many times - is the best long-term direction for financial stability. Ensuring that product management is working effectively is key to growth and profitability.
Introducing product management in the company means that existing working methods are questioned and responsibilities are reorganized. These changes are not easy, and it is critical that senior management fully supports the need for and benefits of product management. She has to encourage and support the young team.
Our publication "What is the point of product management?" can be useful in developing this sponsorship and sponsorship.
The team must be equipped with the right skills and methods for successful work and have a clear plan of how the implementation should look. We can support you with our training courses. Contact us at [email protected] or give us a call.
Andrew Dickenson
Director, Product Focus