Read poetry? Absolutely!
The Leipzig Book Prize for Jan Wagner's "Rain Barrel Variations" - that increases the demand and lets the circulation skyrocket. Hanser Verlag immediately phoned his printing company and ordered more. "And for booksellers this is an encouragement to make the poetry shelf a little wider," says Christoph Buchwald. If anyone is familiar with poems and their marketing, it is him, editor, publisher and long-time editor of the "Jahrbuch der Lyrik", an anthology for selected contemporary poems from the German-speaking area.
Lyrics hidden on the shelf
Poetry does not seem to be suitable for stacking goods at the moment, it is missing on bestseller lists, by no means makes it into every bookstore and there often enough has to hide on remote shelves. Poetry events are well attended all over the country. And currently, during the Leipzig Book Fair, you can convince yourself of the astonishingly wide range of poetry volumes. There are poems that make you happy and others that make you happy, love and war poetry, nature and short poems. From young, contemporary authors and of course from the classics such as Celan, Goethe, Eich, Heine, Jandl, Brecht, Rühmkorf, Gernhardt and whatever their names are. Hanser Verlag has 446 titles in stock, at Suhrkamp you don't even count. And numerous smaller publishers cultivate the genre with devotion and great self-exploitative love.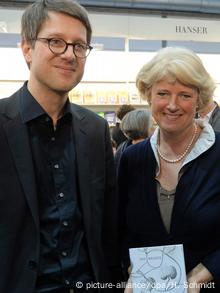 Jan Wagner and Minister of State for Culture Monika Grütters at the Leipzig Book Fair
A poem needs to be read and deciphered several times. Because, if it is successful, it tells a lot more than what is written in the words that make up it. In the best case scenario, "a poem captures a whole world on one page," says Julia Graf, Jan Wagner's editor at Hanser Berlin. Poetry can tell us a story that others need a novel for, "it suddenly makes me look at a nail or a quince". And it is the literary form that speaks directly to people. "You can never experience the happiness of successful literature as quickly as in a successful poem."
Christoph Buchwald reveals why this is so. The poem, he says, has the possibility "through rhythm, internal rhyme, allusion, through the meeting of images to bring up something associatively that is not in the words themselves." So an added value. Spaces of meaning open up, with condensed thoughts and questions that we ask ourselves - we, the readers. Just that we didn't find the right words. Poems, says Christoph Buchwald, "are, so to speak, parameters by which I can measure my own experiences".
Different times, different lyrics
Poetry is the oldest literary genre of all. But of course she questions herself again and again, tries to formulate contemporary, to be an echo and mirror of her time. Christoph Buchwald recalls the political poem from the late 1970s with a certain shudder. At that time, highly idealistic utopias were formulated that had something opinionated about them. Going there today is more likely to feel doubts, question marks and cracks.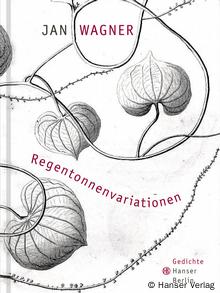 As before, says Sebastian Wolter, one of the two publishers of the Leipzig company Voland & Quist, a lot of people write poetry. He publishes some, for example Nora Gomringer, who has already won several awards, or Bas Böttcher, the most famous German spoken word poet. Voland & Quist offers their work in beautiful books. Sometimes a CD is also part of it, it makes the words ring and buzz. Some of Nora Gomringer's texts have even been set to music by the a-capella experts of the part of speech ensemble. Lots of treasures. One wishes them, like poetry in general, the encouragement they deserve. Does Jan Wagner's award contribute to this? "I really hope so," says Christoph Buchwald.