Gives you a balanced muscle nutrition
Since many fitness trainers recommend a program that is 70 percent made up of the right diet and only about 30 percent of appropriate fitness exercises, it is worth taking a very special look at the right diet and especially the 15 best foods for effective and healthy muscle building to dedicate:
15 foods for effective and healthy muscle building
Water: How is water supposed to promote muscle building, you may be wondering. Yes, water is actually one of the most important factors in building muscle, since muscle tissue consists of 75 percent water. So drink 1 to 2 liters of still water daily - depending on the fluid content of your food. So if you eat a lot of salads, vegetables, sprouts and fruits, 1 to 1.5 liters of water per day is enough. On days when the water-rich foods are neglected, you should drink 2 liters of water.
Organic free-range eggs: eggs contain the highest concentration of essential amino acids after whey. While whey is a dairy product and is not well tolerated by many people, eggs - in organic quality - are a food that is a very good and easily digestible source of protein. It is ideal if the eggs are eaten raw, e.g. B. in a shake. To do this, mix freshly squeezed orange juice with a banana, a tablespoon of coconut butter and two eggs in a small, high-performance blender - enjoy your meal!
Fish: Fish is also known to be a high quality source of protein. One or two fish meals a week are enough. Choose fish from sustainable catches. Information on this can be found e.g. B. in the Greenpeace fish guide
Nuts: Walnuts, Brazil nuts and almonds are particularly recommended in a diet for healthy muscle building and of course not only provide you with high-quality protein, but also with the right fatty acids, with calcium, magnesium, iron and - in the case of Brazil nuts - with plenty of selenium.
Beans: Like all legumes in general, beans are very rich in protein. Combined with whole-food rice, such a dish provides all the essential amino acids. The complex carbohydrates in the beans are digested very slowly and ensure balanced blood sugar levels. In addition, beans provide zinc and fiber. Zinc in particular is extremely important for muscle growth, as a zinc deficiency can inhibit muscle building. If you are preparing core beans, soak them overnight, discard the soaking water, and boil the beans in fresh water. This makes the beans much easier to digest, and possible enzyme inhibitors that could lead to a restricted utilization of the trace elements are broken down in advance.
Oats: Oats are grains with an unusually balanced amino acid profile for grains and can be processed very well into a delicious fresh-grain porridge. Grind or flake the oats, add water, let the porridge swell for half an hour and now add a banana, berries and soaked dried fruits - and a high-quality and filling breakfast is ready to go.
Peanut butter: Peanuts are legumes and therefore provide wonderful proteins, but also healthy fats, while at the same time being relatively low in carbohydrates. A high-quality organic peanut butter on wholemeal spelled bread or on gluten-free bread provides you and your muscles with a complete and healthy amino acid profile.
Quinoa: The amino acid profile of quinoa is said to be similar to that of beef, so it is very suitable for people who value tight muscles. Quinoa also provides not only protein, but also a variety of other valuable substances, such as B. the B vitamins, a lot of iron and magnesium and high quality polyunsaturated fatty acids.
Spinach: Popeye was right. Spinach is a wonderful vegetable for nourishing the muscles. We have explained in detail how spinach does that: Spinach makes you strong
Broccoli: Broccoli is one of the real superfoods. Whether as a vegetable, raw food, soup or in the form of broccoli sprouts - it has so many advantages that it is best to eat broccoli several times a week. For the muscles, broccoli has a very high protein content for vegetables (3.2 grams per 100 grams) and at the same time very few carbohydrates. Its high antioxidant and vitamin content not only protects the muscles, but also the rest of the body. Broccoli is THE anti-cancer vegetable par excellence and - if properly prepared - also helps against arthritis and, thanks to its antioxidant properties, against attacks of free radicals of all kinds.
Berries: Berries are also very rich in antioxidants and many other vitamins that are necessary for muscle tissue growth and muscle health.
Lupine protein: The lupine is a legume and is therefore extremely rich in protein. At the same time - in contrast to other legumes - it does not supply any purines, so that its protein is considered to be particularly healthy and also an alkaline protein.
Hemp protein: Hemp is another superlative food. The hemp nuts contain a lot of vitamin B2, a vitamin that is mainly found in meat and dairy products, but is just as abundant in hemp. Vitamin B2 plays an important role in building muscle, but also for the eyes and skin. Hemp also provides 20 to 24 percent protein, which is composed of all essential amino acids and thus has a complete amino acid profile for humans. This also includes sufficient amounts of the so-called branched-chain amino acids, which are particularly urgently needed for the growth of muscles and their repair. The hemp protein is available in different variants and concentrations.
Rice Protein: A high quality rice protein - such as B. the 80 percent organic rice protein from Maskelmän - with 1.5 tablespoons already provides 16 grams of protein. The digestibility is almost 100 percent and thus similar to that of breast milk. At the same time, the rice protein provides the B vitamin complex, so that the proteins can also be perfectly metabolized. Last but not least, taste also plays a role and this is extremely good with the Maskelmän rice protein.
Protein mixes: Since not all proteins often provide all amino acids in sufficient quantities and since in nature we would not eat high amounts of a single protein every day for weeks, protein mixes are a wonderful way to benefit from the synergistic effects of high-quality protein combinations reach. Tinder protein, a mixture of different protein powders, is such a high-quality protein combination.
Underweight: gain weight with a healthy diet
Also read our article that can help you balance your underweight with a healthy diet: A healthy diet for underweight
As always, buy organically grown and carefully manufactured products whenever possible. Also, don't forget that alcohol inhibits muscle growth and should therefore only be consumed in really manageable amounts - if at all.
If you now consume the foods described here regularly - and complete the right training sessions two to three times a week - you will soon notice substantial muscle growth and an overall improvement in your state of health.
An interesting documentation about vegan nutrition, lifestyle diseases and more can be found here under this link.
* This article contains advertising. Our website contains affiliate links (* mark), i.e. references to partner companies, for example to the Amazon website. If a reader clicks on an affiliate link and subsequently on a product from our partner company, we may receive a small commission. This means that we cover part of the costs we have for the operation and maintenance of our website and can continue to keep the website free of charge for our readers.
display
Distance training to become a holistic nutritionist
Are you interested in what's in our food and want to know how nutrients and vital substances affect the body? Do you want a healthy life for yourself, your family and fellow human beings? Nutritionists are popular - but the holistic aspect that is needed for sustainable health is often forgotten when giving advice. At the Academy of Naturopathy, you will get to know the connections between lifestyle and diet as well as physical and psychological well-being.
That educates interested people like you in around 16 months to become a holistic nutritionist out.
Is this article worth reading?
Share this article
Notice on health issues
This information is passed to the best of my knowledge and belief. They are intended exclusively for those interested and for further training and are in no way to be understood as diagnostic or therapeutic instructions. We do not assume any liability for damages of any kind that arise directly or indirectly from the use of the information. If you suspect illness, please consult your doctor or alternative practitioner
Related articles
SportMuscle building works perfectly with a vegan diet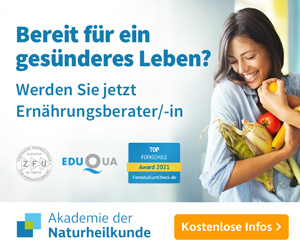 Subscribe to Newsletter
Exciting information about health and nutrition
1x per month
Login Successful. You will shortly receive a confirmation at the specified email address.
With your registration you allow the regular sending of the newsletter and accept the data protection regulations.
HEALTH CENTER © 2021 Neosmart Consulting AG. All rights reserved.